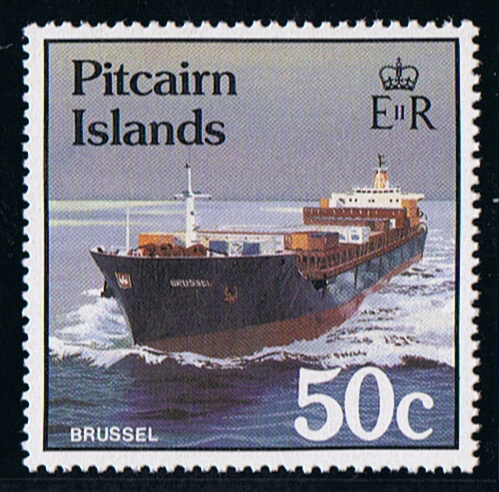 Built as container bulk-carrier under yard No 891 by Cockerill Yard at Hoboken, Belgian for N.V. Cockerill Belgian, (managed by Antwerp Bulk Carriers.)
27 September 1979 launched under the name BRUSSEL.
Tonnage 24.353 gross, 19.029 net, 41.400 dwt., dim. 199.02 x 29.37 x 15.37m., draught 11 meter, length bpp. 190.02m.
Powered by two 6-cyl Sulzer diesels, 14.000 hp., one shaft, speed 15.5 knots.
Fuel capacity: 2.730 m³.
Seven holds one deck.
Grain capacity 50.330 cubic meter, and can carry 1.484 TEU's.
1979 completed.
After delivery chartered by ABC Container Lines, (Sea Lanes N.V.) Antwerpen, Belgium.
1981 Sold to Antwerp Bulk Carriers N.V., Belgian.
1986 Sold to Oceancarriers Shipholding N.V., Belgian.
She left Felixstone 10 August 1989 bound for Lyttelton, New Zealand, arrived Sydney 4 October.
1994 Registered under the flag of Luxembourg and owner given as Maritime Carriers Luxembourg S.A., Luxembourg.
1996 Sold to Oceanprofile Maritime Ltd., Cyprus, renamed NEL.
1998 Sold to Marplan Shipping Ltd., Cyprus renamed SEAGULL HARMONY.
1999 Renamed in ORIENT CORAL.
May 2000 renamed in PAPUA ENERGY.
June 2000 Sold to Marine Hawk Shipping Co., Cyprus and renamed BRUSSEL.
July 2008 Sold to Saqer Logistic Fze., United Arab Emirates, and renamed in RAK SAFARINI.
Pitcairn Island 1987 50c sg 297.
2008 As given by
http://www.equasis.org
IMO No. 7817608. Given as a self-discharging bulk carrier.