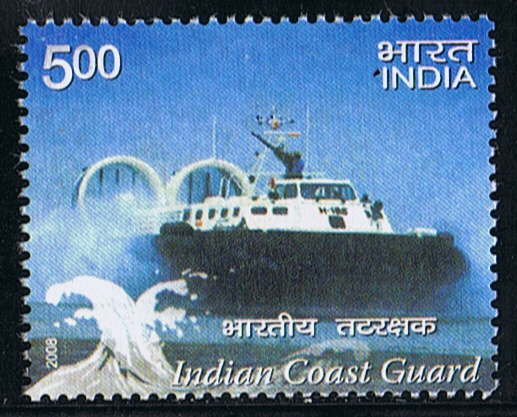 Comparing the stamp with a photo on
http://www.bharat-rakshak.com/NAVY/Hovercraft.html
the second photo is exact the same as the design of the stamp, she is the hovercraft H-185.
Designed and built by Griffon Hovercraft Ltd. U.K, assembled by Garden Reach Shipbuilders & Engineers, Kolkata.
Six units were ordered by the Indian Coast Guard from the type 8000 TD(M). The first two were built in the U.K. while the other four were assembled at Kolkata.
Displacement?, dim. 21.85 x 11.30 x 0.32m. (draught), beam with skirt deflated 8.70m.
Two MTU12V183TB32 diesel engines each 800hp, speed 46 knots.
Range at cruise speed 500 miles.
Crew 14.
H-185 Commissioned 08 December 2001, as the fifth unit of this class of Air Cushion Vehicle.
In a military roll this craft are very useful for amphibious assaults, logistic support and fast attack, by the coastguard used for patrolling in shallow waters.
The H-185 is in service by the Indian Coast Guard.
India 2008 5R.00 sg?, scott?
Source:
http://www.griffonhovercraft.com/8000.html
and the URL given above.