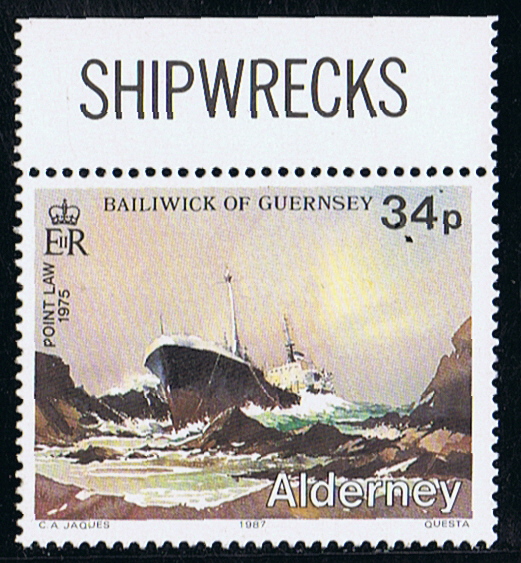 Built as a tanker under yard No 935 by Hall Russell Co., Aberdeen, Scotland for Shell-Mix & B.P. Ltd., London.
20 September 1967 launched as the POINT LAW.
Tonnage 1.542 grt, 752 net, 2.187dwt, dim. 79.95 x 12.48 x 5.14m.
One 6-cyl. British Polar diesel, 1280 bhp., speed 11.5 knots.
End 1967 delivered.
On a voyage from St Sampson harbour, Guernsey to the Isle of Grain in ballast, she grounded south west of Alderney on the Le Puits Jervais rocks on 15 July 1975. With rocks penetrating her hull all her compartments flooded.
The wrecked vessel began to break up in the continuing heavy seas.
The 12 crew members were saved and brought to Alderney.
Alderney 1987 34p sg A36, scott 114.
Sources: register of Merchant Ships completed in 1967. Modern Shipping Disasters 1963-1987 by Norman Hooke. Merchant Ships world built 1967.