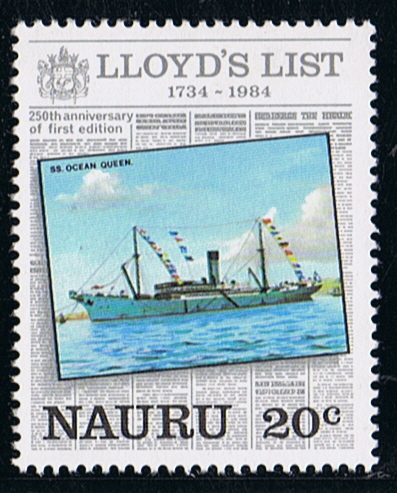 Built as a cargo vessel under yard No 760 by W. Gray & Co. at West Hartlepool, U.K. for Jacob Christensen, Bergen, Norway.
08 December 1908 launched as the OCEAN QUEEN.
Tonnage 3,188 gross, dim. 338.0 x 43.6ft.
One triple expansion steam engine ?hp, speed 11 knots.
February 1909 completed.
She was built after specifications of the Pacific Phosphate Company.
After delivery used in the phosphate trade from the Makatea Island, a small island about 130 miles north north east of Tahiti, and belonging to the Taumotuchi Archipelago. On the island a large deposits of phosphate was discovered and in 1909 the Compagnie des Phosphates de L'Oceanie was established with French money and expertise of the Pacific Phosphate Company.
The trouble is that the waters around the island are deep and require very heavy moorings. When the OCEAN QUEEN on 16 September 1909 arrived off the island from Papeete, Tahiti in ballast under command of Captain Christian Johannessen, and while searching for a safe location for these moorings she suffered a main engine failure and was blown on the reefs of Makatea. Later that day she slipped off the reefs and sank.
At that time there was not any radio communication between the island and Tahiti, and the loss of the OCEAN QUEEN was conveyed to Papeete by carrier pigeon.
Nauru 1984 20c sg 295.
Sources: Miramar. Register of Merchant Ships completed in 1909. Sea Breeze June 2001.