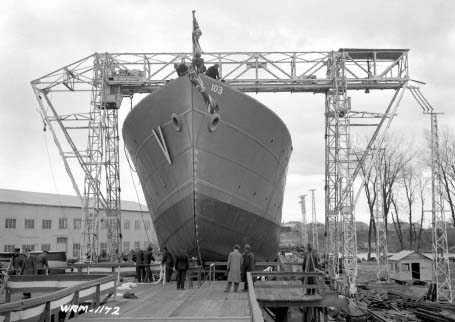 Built by Marine Industries Ltd, Sorel, Quebec and Commissioned at Sorel on 28 April 1942, LA MALBAIE arrived at Halifax on 13 May and, after working up there and at Pictou, joined WLEF late in June. After undergoing mechanical repairs at Halifax from 11 August to 20 December, she was assigned to EG C-3, arriving at Londonderry for the first time on 12 January 1943 from HX.221. She served with C-3 until her final departure from Derry on 26 October 1944. During this period she underwent a major refit at Liverpool, Nova Scotia, mid-September to mid-December 1943. Late in December 1944 she joined Halifax Force for the duration of hostilities, was paid off 28 June 1945 at Sorel, and ultimately broken up in Scotland.
La Malabie was a Flower Class Corvette of British design, Pennant number K-273. Displacement 1,015 tons, dim 208.33x33.08x11ft. Speed 16kts. Arm 1x4in gun, 1x2pdr and 20x20mm machine guns.
A pre-launching photo of LA MALBAIE served as the model for the 20-cent Canadian stamp of 1942.
SG386 various web sites.