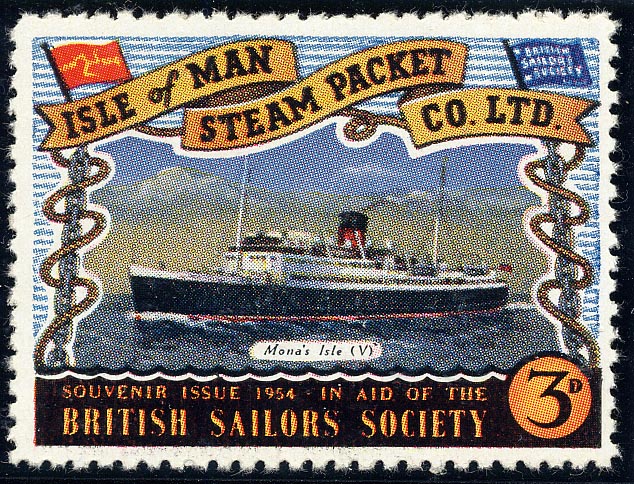 Launched
12 October 1950, Maiden voyage 22 March 1951.
Virtually identical to her four older sisters, King Orry,
Mona
's Queen, Tynwald and Snaefell,
Mona
's Isle was built at Cammell Laird, as the fifth of the six sisters delivered by the company between 1946 and 1955 at a cost of £570,000.
Although she was very like Snaefell,
Mona
's Isle could be identified from her by not having the Manx crest on her bows. At the stern, whereas the Snaefell had rails and mesh,
Mona
's Isle had solid bulwarks.
She started service between Douglas and the various ports then served by the Steam Packet.
On 8 June 1955, she went aground off Fleetwood after a collision with the Ludo, a small fishing vessel. One man, Francis Stewart, was lost from the Ludo which was cut in half and sank almost immediately.
On 15 February 1964, she went aground at Peel and severely damaged her stern resulting in her having to be towed to Birkenhead for repairs.
In August 1971,
Mona
's Isle reopened the Company's Fleetwood service from Douglas, but on 28 August 1974 made its last sailing to Heysham Port.
She appeared in a feature on Nationwide on 24 July 1974.
The 1980 season was her last, although she did appear in the film Chariots of Fire and took the 150th anniversary cruise around the Island. 27 August saw her final passenger sailing from Douglas to Llandudno. She was towed away to Dutch breakers on 30 October 1980.
The
Mona
's Isle was named by Mrs. A. E. Kilts, wife of a director of the Isle of Man Steam Packet Company, and she was accompanied on the launching platform by the late Sir. Robert S. Johnson, chairman and managing director of Cammell Lairds. Those present included the Mayor and Mayoress of Birkenhead, Alderman and Mrs. F. Garstang, and the Mayor and Mayoress of Douglas, Counc. and Mrs. T. Radcliffe.
Sir Robert said on that occasion the new
Mona
's Isle was superior to any of the other four the firm had built for the service, in, fact, each succeeding vessel, although of similar design and size, was a little better than her predecessor. The ship-built to maintain a speed 21 knots-has a gross tonnage of 2,491 and dimensions, 345 ft. (o.a.) x 47 ft x 17 ft. Twin-screws are driven by turbines and like her predecessors she is fitted with extra wide gangway doors to facilitate embarkation of passengers. To aid her in entering and leaving Douglas harbour she is equipped with a bow rudder.
British Sailors Society label. Sea Breezes 7/54