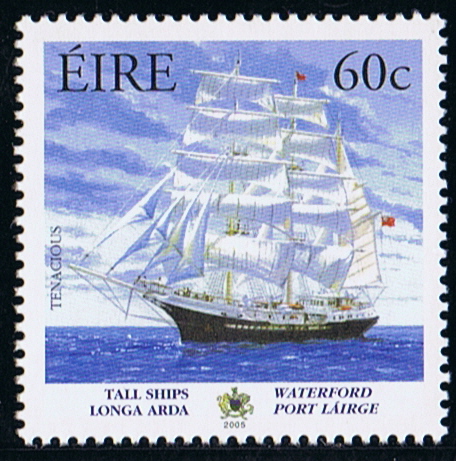 Built on the Jubilee Yard, Southampton for the Jubilee Sailing Trust (JSK).
Planning the project and fundraising commenced in 1993, and in June 1996 the Duke of York laid the keel.
The hull was built upside down and in November 1998 the 280 ton weighing hull was rotated upright.
04 February 2000 launched.
06 April 2000 named TENACIOUS by Mrs. Jacquetta Cator, the wife of the president of the JSK in the presence of the Duke of York the Patron of the JSK.
Tonnage 586 ton gross, dim. 65.00 x 10.60 x 6.60m., draught 4.50m., length on waterline 46.10m.
Built of innovative wood epoxy laminated Siberian larch timber.
Barque rigged, sail area 1217m².
Auxiliary engines two 400 bhp. Cummins diesels. Bunker capacity 44.000 liters, fresh water capacity 23.900 liters.
Crew 40 of which 50% may be physically disabled, including up to 8 wheelchair users.
Building cost £14.3 million. Designed by Tony Castro.
Special built to allow physically disabled people to experience the trill of sailing a tall ship. The many cleverly designed features of the ship allow disabled crew to work independently alongside their able-bodied shipsmate
She was built by skilled designers, engineers, shipwrights and fitters, and supplemented by a volunteer force of over 1500 able bodied and disabled people, from around the U.K.
01 September 2000 she set sail from Southampton to Jersey, thereafter used for tall-ships races and cruising.
Since commencing voyages she has taken 2.269 people to sea. Of these 821 people were physically disabled and 336 were wheelchair users.
Ireland 2005 0.60c sg? scott ?
http://www.jst.org.uk/frames/index.php?pages=page1041
http://www.tallship-fan.de/index_e.htm