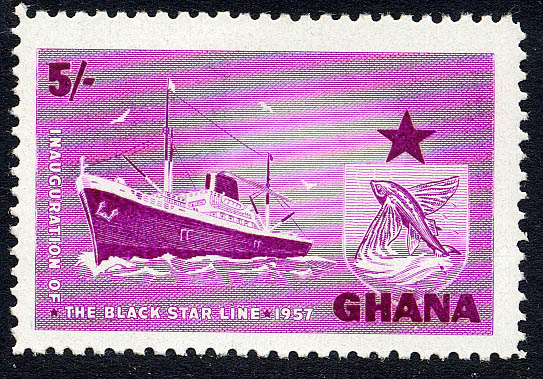 Three stamps issued on December 27th 1957 commemorated the establishment of Ghana's first shipping undertaking, styled the Black Star Line, a venture controlled by the State. The vessels shown are symbolic although the steamer pictured on the 5s. stamp bears the name "Black Star" and is named in Gibbons as
Volta
River
. When Ghana decided to found a national undertaking of this order 30 vessels were offered for sale. Mr. W. M. Q. Halm, president of the new undertaking, said in London that the service would be begun with a single cargo vessel but that two other ships would be bought soon after that and a further three added. The company's ships to operate a service between European ports, carrying machinery, cement and other general cargoes to Ghana and produce of the new state in the opposite direction.
At first the ships will be staffed by Israeli masters who will be replaced as soon as possible by men of Ghana to be trained by the Zim Israel Navigation Co. Ltd. Documents establishing the Black Star Line were signed in September 1957 in the offices of the Ghana Ministry of Trade and Development. Drs. H. Wydra and S. Friedman signed on behalf of the Zim Israel Navigation Company and Mr. Kojo Botsio, Minister of Trade and Development, and Mr. B. Y. Asare, Minister of communications, on behalf of the Govemment of Ghana. The initial authorised capital of the company was £500,000, 60 per cent of which to be subscribed by the Government of Ghana and the remainder by the Zim Israel Company. The head office of the line to be at Accra with other premises at Takoradi.
The first ship acquired by the Black Star Line was the cargo vessel Marsdale, built by Lithgows in 1940 for the" K" Steamship Co. Ltd. (Kaye, Son and Co. Ltd.) of London. She is a ship of 4,959 gross tons with dimensions 420ft. 3M. x 56ft. 9in x 24ft. 3M. Now renamed
Volta
River
by her new owners, she sailed from Liverpool for Ghana on November 18th 1957.
SG184 Sea Breezes 2/58