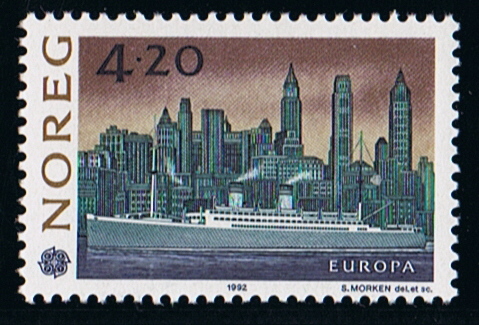 STAVANGERFJORD
Builder: Cammell, Laird & Co Ltd, Birkenhead, England.
Completed : February 1918. Gross tonnage: 14015. Dimensions: 553ftx 64ft. Depth 33ft.
Engines: Two four-cylinder, quadruple expansion engines and two low-pressure turbines, double reduction geared.
Screws: Twin.
Watertight bulkheads: Ten.
Decks: Four.
Normal speed :15.50 knots.
Passenger accommodation : 90 first, 172 cabin and 413 tourist class.
Maiden voyage: Oslo—Bergen—New York in the autumn of 1918.
The Stavangerfjord was built to replace the loss of the Kristianiafjord and was employed in the Oslo-Copenhagen—New York run.
Refitted for oil fuel in March 1924 and two low-pressure turbines added to her reciprocating machinery in late 1931.
In April 1940 she was commandeered by the Germans and used as an hotel-ship to accommodate troops.
Returned back to the Line after World War II and resumed transatlantic sailings in August 1945, first as a repatriation ship and subsequently on commercial services.
On December 9, 1953, the Stavangerfjord lost her rudder in a gale 500 miles east of Newfoundland and hove to for two days until the Norwegian-America Line's freighter Lyngenfjord took the ship in tow.
While in tow the lines broke, but she was able to make Oslo on her own by the 19th.
Reconditioned in November—December 1956.
Stavangerfjord was the oldest known passenger ship still in service when she was withdrawn in December 1963 after 45 years of service to the Line and sold for scrap in Hong Kong to Patt Manfield Co Ltd and arrived on February 4, 1964, for breaking up.
Maldives SG2701, Norway SG1145.
North Atlantic Pasenger Liners since 1900 by N T Cairis