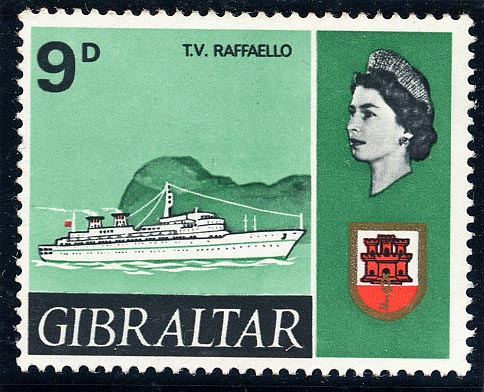 Builder: Cantieri Riuniti dell' Adriatico, Mon¬falcone, Italy.
Completed: July 1965.
Gross tonnage: 45,933.
Dimensions: 905ft x 102ft. Depth,52ft.
Engines: Four steam turbines, double-reduction geared.
Screws: Twin.
Watertight bulkheads: Sixteen.
Decks: Six.
Normal speed: 26.50 knots. (Attained a speed of 30.15 knots on her trials.)
Passenger accommodation: 535 first, 550 cabin and 690 tourist class.
Maiden voyage: Genoa–Cannes–Naples–New York on July 18, 1965.
Employed in the Genoa–Cannes–Naples–Alge¬ciras–New York service with cruises to the West Indies during the off season. Her funnels are con structed of fibre glass and she has a bulbous bow to increase her speed.
Sister ship : Michelangelo
Gibraltar SG208.
North Atlantic Passenger Liners since 1900. N T Cairis