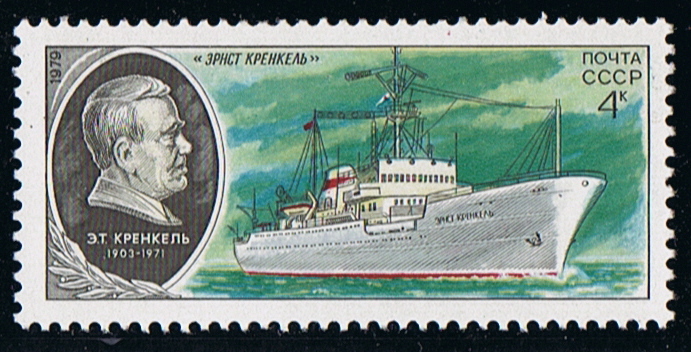 She was built as a research vessel under yard No. B88.3/9 by the yard of Stoznia Szczecinska at Szczecin, Poland for the USSR.
30 June 1971launched under the name VIKHR.
Tonnage 3311 gross, 837 net, 1504 dwt dim. 100.1 x 14.8 x 5.1 (draught)
Powered by two 2400 hp each, diesel engines, speed 11 kn, two screws.
Can stay for 90 days at sea.
She has 22 laboratories, and has accommodation for 60 scientists.
Homeport Odessa. She belongs to the Krenkel class of which 11 has been built.
1972 Renamed in ERNST KRENKEL. Named after a Russian pole explorer and Krenkel was the Chief Radio Operator on the CHELIUSKYN expedition
1992 Transferred to the Hydrometeorological Service of the Ukraine.
End 1999 still sailing under this name.
2008 still around according
http://wwwequasis.org
IMO No 7205685. Call sign EOGQ
Owned and managed by Ukraine Marine Ecology, Odessa, Ukraine.
Russia 1979 4k sg 4950
Sources Soviet Block Merchant Ships by Bock. Register of Merchant Ships completed in 1971. Marine News.