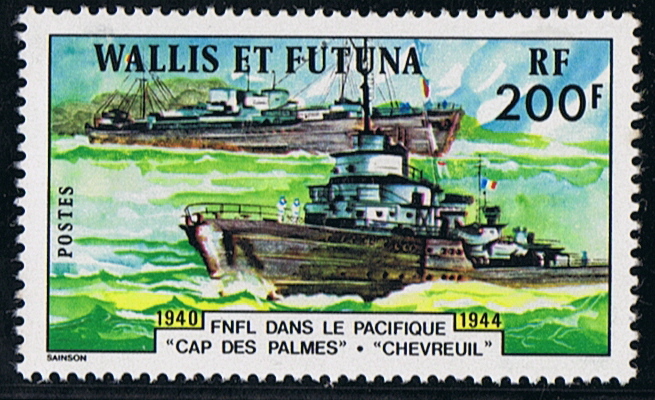 Built as a reefer-passenger vessel by Helsingörs Jernskib & Maskinbygger AIS, in Helsingör, Denmark for Cie de. Navigation. Fraissinet, Marseilles, France.
Launched under the name CAP DES PALMES.
Tonnage 3.082 gross 2.068 net, 1.950 dwt., dim. 100.38 x 13.41 x 5.23m. (draught)
One 9-cyl.Burmeister & Wain 2SA. diesel engine 4.500hp. speed 17.7 knots.
Passenger accommodation for 12 passengers.
1935 Delivered to owners.
Used in the trade from Marseilles to Senegal, French-Guinea, Sierra Leone, Ivory Coast-Dahomey, Nigeria and Cameroon, return voyage with mostly bananas and other tropical fruits.
09 November 1940 captured off Libreville, Gabon by the Free French warship COMMANDANT DOMINE.
Fitted out as an armed Free French patrol ship at Durban, and got her armament in the U.S.A. of
2 – 90mm guns in 1941.
After she was armed, sent to the Pacific and arrived Papeete on 11 October 1941.
She transported passengers and supplies between San Francisco and Sydney via Papeete until October 1942.
Then taken over by the British Ministry of War Transport, and entered the Mere Island Navy yard as San Francisco for refit as a auxiliary cruiser, rearmed with 2 – 6 inch, 12 – 20mm AA guns and 6 – 21 inch torpedo tubes, and four depth charge throwers.
From March to August 1943 she escorted U.S. convoys in the Pacific, then served with the U.S. Third Fleet in the Guadalcanal area until July 1943.
1944 Returned to Fraissinet.
1957 Sold to Cie Mar. Agrumes, French, renamed BANORA.
1963 Sold to Societe Marocaine de Navigation. Frutiere, Morocco, not renamed.
On a voyage from Casablanca to Hamburg, loaded with citrus fruit, she sprang a leak during bad weather on 18 November 1965, after which her engine room flooded in a position off Cape Finisterre, Spain.
She was taken in tow, but due to a serious list her master and 35 crew members abandoned her.
The BANORA was towed to Camarinas, but broke her anchor and grounded off Punta del Guerno, south of Cape Villano the next day.
She was abandoned the next day.
Source; Ship on Stamps CD. Lloyds Register 1955-56. Merchant Ships Completed in 1935. Modern Shipping Disasters 1963-1987 by Norman Hooke.
The other ship on the stamp is the patrol vessel (Aviso) of the French Navy CHEVREUIL.
Built by the Lorient Dockyard for the French Navy.
June 1937 keel laid down.
17 June 1939 launched under the name CHEVREUIL
Displacement 630 ton standard, 895 ton maximum. Dim. 78.30 x 8.7 x 3.28m. (draught)
Powered by two Sulzer diesels 4.000 hp., speed 20 knots. Twin screws. Bunker capacity 100 ton.
Radius 10.000 mile by 9 knots, 4.000 mile by 14.5 knots.
Armament 2 – 100mm gun. 8 – 13.2 MG.
Compl. 4 officers and 99 crew.
September 1938 commissioned.
When war broke out used for patrol duty in the English Channel and Atlantic. When French was overrun and partly was occupied by the German forces in 1940, she sailed to the U.K., and was seized by the Royal Navy on 3 July 1940 in Portsmouth.
After rearmed and modified, her old gun was replaced by a modern 1 – 100mm gun from the FLORA, and 1 – 11pdr. Mark II was added.
03 September 1940 transferred to the Free French Navy, and commissioned under command of Lt. Fourlinnie.
Used as escort vessel of convoys along the English coast south of Spithead.
Damaged and out of service from October 1940 till April 1941.
From April till August 1941 based in Dundee and under the orders of the commander of the 5th Flotilla of Submarines, as a submarine tender.
From August till October at Papeete, Tahiti.
At the end of 1941 at Noumea, New Caledonia.
From January till February 1942 used in Cook Islands waters.
27 May 1942 at Wallis and Futuna, when it was taken over by the Free Fence Forces.
June 1942 till March 1943 based at Papeete.
Between April and May 1943 used as an escort for convoys between Sydney and Nouméa.
14 May 1943 command was taken over by Lt. Kerez.
June till July 1943 based at Nouméa.
August 1943 arrived at San Pedro, California.
10 August 1943 command was taken over by Lieutenant Villebois.
From August 1944 stationed in French East Africa.
October 1959 handed over to Tunisia, and renamed DESTUR.
Around 1973 taken out of service.
Wallis et Futuna 1978 200f sg 288, scott ?
Sources: Ships on Stamps CD.
http://perso.wanadoo.fr/bertrand.daubigny/AXACM.htm
Navicula.