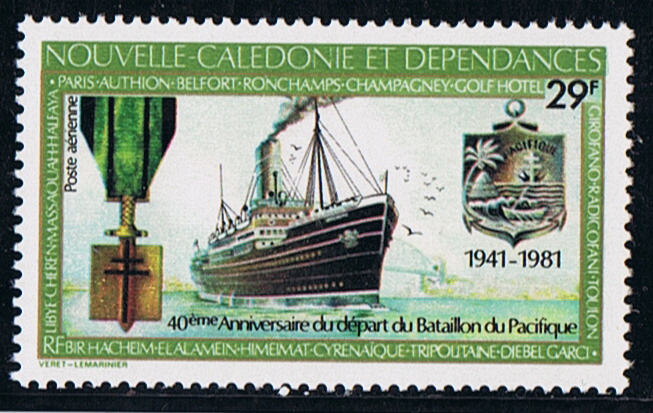 Built under yard no 392 by J.Brown & Co. Ltd., Glasgow for Huddart Parker Pty. Ltd., Melbourne.
20 Nov 1909 launched under the name ZEALANDIA.
Tonnage 6.660 gross 6.683 net. Dim. 125.1 x 16.7m.
Powered by a two quadruple expansion steam engines 1.157 nhp., speed 15 knots, twin screws.
Passenger accommodation for 200 first, 120 second and 126 third class passengers.
14 May 1910 she sailed from the Clyde for her maiden voyage to Australia, around the Cape of Good Hope. She made a call at Durban on 8 June and arrived at 25 June at Melbourne, Australia.
The intention when ordered was to put her in the Trans-Tasman service, but after arrival at Melbourne she was chartered to the Union Steamship Co., for their Canadian-Australasian Line service to Vancouver.
01 July 1910 she arrived at Sydney to prepare her for this service and she sailed on 1 August on her first voyage via Auckland, Suva and Honolulu to Vancouver.
She stayed on this service till the new NIAGARA arrived to take over.
19 March 1913 she sailed for the last time from Vancouver, arriving Sydney 12 April, after she was redelivered from her charter to her owners.
She was placed then in the Fremantle service, with her first sailing from Sydney on 23 April 1913.
She was the fastest passenger vessel on the coastal service to the west.
Requisitioned by the Australian Government in May 1918, and at Sydney converted in a troopship. Sailed from Sydney via the Panama Canal to New York, and from there carried American troops to Europe till the Armistices.
18 Nov. 1918 She sailed homeward bound from Liverpool with on board Australian troops, arriving Sydney on 10 Jan. 1919. Then she sailed to Bombay to embark British troops for England.
06 May 1919 sailed from Plymouth for her last trooping duty to Australia. Arrived at Sydney on 01 July.
Returned to owners after arrival, being reconditioned and repaired at the Cockatoo Dock.
Replaced again in the Sydney to Fremantle service, sailed for the first time from Sydney on 13 December 1919.
When in April 1927 an other ship of the company was wrecked she was placed in this service from Sydney to Hobart during the summer of 1927/28.
Returned to the Fremantle service in June 1928. The next summer season again in the Sydney Hobart service and in the winter in the Sydney to Fremantle service.
After September 1929 only used in the Sydney to Hobart service the next ten years.
June 1940 requisitioned for the Second World War and again converted in a troopship.
Sailed from Sydney on 29 June 1940 for Darwin with on board 800 troops and supply, the first of many voyages between these two ports.
During 1941 she carried troops and supply to New Guinea, and in Sept. made a voyage to Singapore.
Thereafter she came back and evacuated women and children from Darwin and brought this people to Sydney.
23 Dec. 1941 sailed from Sydney with a full cargo of supplies for Darwin, arrived at Darwin anchorage on 6 Feb. 1942. After arrival commenced discharging a slow process, the cargo was discharged in barges.
19 February still at anchor when Darwin was attacked by a Japanese air raid, and the ZEALANDIA came under attack of two Japanese planes. The first plane dropt a bomb that exploded in hold no 4, and the second plane dropt his bomb that fell through the engineroom skylight and set the vessel on fire. She was soon ablaze from stem to stern, more Japanese planes attacked the vessel with machinegun fire. The vessel was abandoned when she was sinking, from the 145 persons on board during the attack only 3 lost their live, but the ZEALANDIA sank on even keel that day only the mast tops were still showing above water.
1959 The wreck was refloated by a Japanese shipbreaking firm and scrapped.
New Caledonia 1981 29f sg 655
Register of Merchant Ships Completed in 1910. Passenger Ships of Australia & New Zealand Vol 1 by Peter Plowman.