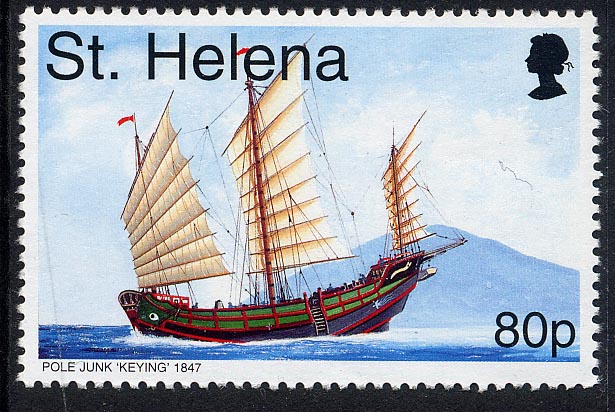 A group of enterprising British businessmen invested $75.000 in a Chinese trading junk in the hope of using the vessel as a floating exhibition in London.
She was renamed KEYING named after the noble Commissioner Qiying (Keying) a Manchu mandarin.
Built of Chinese teak wood.
Tonnage 800 tons, dim.45 x 10.7 x 5.8m.
The mainmast also made of teak was 85 feet high from the deck, and carried a matting mainsail, battened with bamboo, the mainsail weighed 9 tons.
Painted black and white, with a large eagle on her stern and on the bows two eyes.
The rudder which acted also as a keel was very large, and made of iron wood. The rudder hangs in three large ropes, and drawn in the stern by two others going underneath her bottom and coming up over her bow, and when the rudder is down she draws 23 feet.
She had 15 compartments of which several are watertight.
Armament 20 jinjalls, a hybrid between a cannon and an arquebusses.
Crew 38 Chinese 12 English.
She had a maindeck, raised quarterdeck, two poops and a raised forecastle, with a high veranda above that.
Her maindeck is arched. Her anchors are made of wood and the shanks about 30 feet long. The cables are made of bamboo, the robes of bamboo, rattan, and India grass.
On deck are three water tanks.
Her sails can be taken in by one man on each mast in a minute.
Her stern and bow are open but she is so buoyant that she never takes in any water at either end.
Her main cabin is 30 feet long, 25 feet wide and 12 feet high, painted with various beasts, birds etc.
She has also six small cabins on the first poop with the joss-house in the centre, in which a light is constantly kept burning.
http://wikipedia.org/wiki/Joss_house
Her stern is 32 feet out of the water.
06 December 1846 she sailed from Hong Kong under command of the British Captain Charles A. Kellet.
On board was also a special envoy, the Mandarin Hesing and a Chinese artist
After sailing she had very light winds, stayed at anchor in the Java Sea and Sunda Strait for six weeks with light Southerly and S.W. winds.
Off Mauritius she had stormy weather on the 22 and 23 March, the KEYING was a very good sailing vessel, not shipping any water, in severe weather it needed 20 men to steer her, but in fine weather and running before the wind only 2 men could steer her.
End March she rounded the Cape of Good Hope, arriving at St Helena on 17 April 1847 from were she left on the 23 April.
The weather driving her to the westward and running low on supplies she made for New York, where she arrived on 09 July after a passage of 212 days.
26 Of her Chinese crew left the vessel, they had signed on only for a voyage to Singapore and Batavia, and not to New York.
At New York she stayed for several months and was visited by an average of 4.000 tourists a day, who bought a ticket of 25c each to board her.
After she left from New York she sailed to Boston, where she arrived on 18 November, and moored near the Charles River Bridge.
She was visited by many people on Thanksgiving Day four to five thousand people visited the ship.
17 February 1848 she sailed from Boston, running in a storm on 28 February which damaged her rudder, her two boats were wrecked and her foresail ripped. During the repair of the rudder her second mate drowned.
After a passage of 21days across the North Atlantic she arrived in St Aubin's Bay, Jersey, a fast passage.
She stayed at Channel Island for 10 days before she set sail for the U.K. accompanied by the steamer MONARCH.
27 March she berthed in the East Indies Dock in London.
She was visited by Queen Victoria and various members of the Royal Family. Other visitors could also visit the junk, admission was 1 shilling.
1853 Was she towed by the steam tug SHANNON from London to Liverpool, anchored off Rock Ferry on 14 May 1853.
29 September 1853 it is given that she would leave for a foreign port in three weeks. But she never left the River Mersey instead she was dismantled by Redhead Harling & Brown for research.
The Plymouth and Devonport weekly journal from 06 December 1855 gives "The Chinese junk once a most popular attractive exhibition, is now rotting neglected and uncared for on the shore at Tranmere Ferry opposite Liverpool".
Source:
http://en.wikipedia.org/wiki/Junk_Keying
The Times 10 July 1847 and 19 May 1848.
Various web-sites.