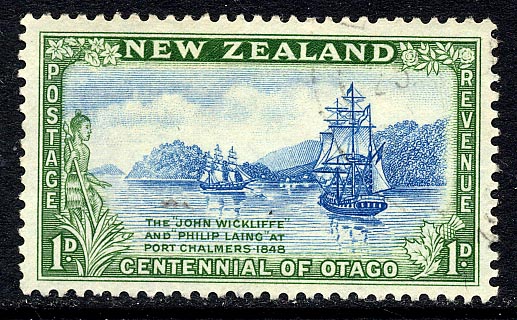 In March 1948 the New Zealand Government commemorated the centenary of Otago Province with a special set of four postage stamps. One of them, illustrated, shows the two vessels, one a ship and the other a barque, which comprised the first "fleet" to the Otago settlement, the last of the New Zealand company's ventures, but not its least successful. Preparations were made to despatch the first vessels as early as 1844, but the scheme was delayed by the Maori War of 1845. In 1846 the Otago Settlement scheme (or "New Edinburgh Settlement" as it was then called) came into operation. The emigrants were Scots Free Churchmen who sailed with the object of bettering them¬selves and their families. There was no religious persecution to cause their emigration. The John Wickliffe and Philip Laing between them had on board 344 people. They were under the supervision of two men whose names are still revered in Dunedin (the old Celtic name of Edinburgh), Capt. William Cargill and the Rev. Dr. Thomas Bums, a nephew of Robert Burns.
The two ships sailed at the end of November, 1847, the Philip Laing from Glasgow and the John Wickliffe from London. They encountered bad weather at the start and were obliged to take shelter, the former in the Isle of Arran and the latter the Isle of Wight. The John Wickliffe, 662 tons, eventually sailed from Plymouth on December 14, 1847, and, after a passage of 100 days, arrived at Port Chalmers on March 23, 1848. Her owner, Mr. John Sands, of Greenock, received about £2,000 for the charter. A passenger on board the ship kept a diary (still housed in Dunedin) which records that gales were encountered at Gravesend and although anchor was weighed on November 24 and again on November 28, it was December 4 before she sailed. Once again she took shelter, at the Isle of Wight, and a start was not actually made until December 14. On February 12 she encountered another severe gale, and at the end of that month three large icebergs were passed. The John Wickliffe was the storeship of the expedition, her cargo consisting of stores which were for sale at a little beyond cost price. Her passengers, under the leadership of Capt. W. Cargill, numbered 97, and the commander of the ship was Capt. Bartholomew Daly.
The bulk of the emigrants were carried in the Philip Laing, a wooden barque of 547 tons, built at Sunderland in 1846 for Laing & Ridley of Liverpool. She was under the command of Capt. A. J. Ellis, with the Rev. Dr. Burns as leader of the 247 emigrants. She arrived at Port Chalmers on April 15, 1848, after a passage of 112 days, her best day's run having been 216 miles. Passage money varied from 35 to 60 guineas for cabin, 20 guineas for fore-cabin and 16 guineas for the steerage passengers.
SG692 Sea Breezes 4/48