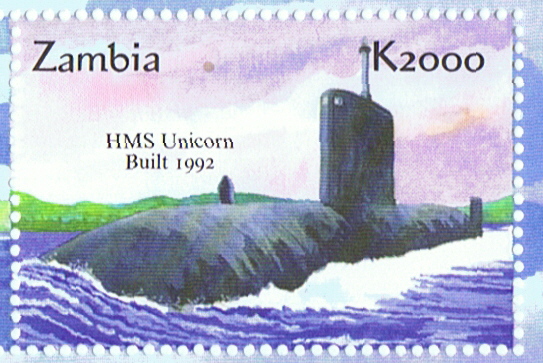 Built as a Hunter-killer submarine by Cammell Laird, Birkenhead for the Royal Navy.
February 1989 laid down.
16 April 1992 launched under the name HMS
UNICORN
one of the four of the Upholster class. Launching ceremony was performed by Lady Grose, wife of the flag officer Plymouth, Vice Admiral Sir Alan Grose.
Displacement 2.168 tons surfaced, 2.455 tons dived. Dim. 70.3 x 7.6 x 5.5m. (draught)
Powered, diesel electric by two Paxman Valenta 16SZ diesels, 4.076 hp and one GEG electric motor, 5.400 shp., one shaft, speed surfaced 12 knots, submerged 20 knots.
Range when snorting by a speed of 8 knots, 9.200 miles.
Armament 6 – 533mm torpedo tubes, (all in the bow) for 18 Mark 48 torpedoes.
Diving depth 300m., maximum 500m.
Crew up to 53.
25 June 1993 commissioned. The budget price of the sub. was US$215 million but the actually price was much higher.
She was the last of the Upholster class built, and the last diesel electric submarine in the Royal Navy.
The plan of the Royal Navy was to order 12 of this class but the plan was curtailed first to 10 and then to four at the end of the Cold War in the early 1990s.
She was the last submarine and warship to be built by Cammell Laird.
This class was very short in commission, when the British government decided to maintain only nuclear submarines.
16 October 1994 she carried out her last dive under the British flag with on board Vice Admiral Roger Lane-Nott.
Paid of 1995 after only 478 days in commission and laid up.
The Upholster class was leased to the Canadian Navy and the
UNICORN
was renamed HMCS WINDSOR (SSK 877), commissioned in the Canadian navy in Halifax in June 2003.
She is now one of the Victoria class.
2007 Based in Halifax and a unit of the Maritime Forces Atlantic (MARLANT).
Zambia 2001 K2000 sg?, scott?
Source:
http://www.btinternet.com/~warship/Post ... holder.htm
http://en.wikipedia.org/wiki/Victoria_class_submarine