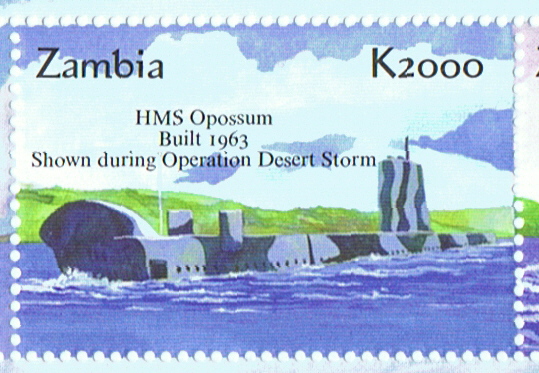 Built as an attack submarine under yard No. 1306 by Cammell Laird at Birkenhead for the Royal Navy.
21 December 1961 laid down.
23 May 1963 launched under the name of HMS
OPOSSUM
(S19) on of the Oberon class.
Displacement 2.030 ton surfaced, 2.410 ton submerged, dim. 295.3 x 26.6 x 15ft., draught 18ft.
Powered by 2 Admiralty Standard Range diesels, 3.680 hp., two electric motors, 6.000 hp, twin shafts, speed surfaced 12 knots, submerged 17 knots.
Range 9.000 miles by a speed of 12 knots.
Armament 8 – 21 inch torpedo tubes, 6 forward and 2 at the stern. First carried Mk 8 torpedoes, later replaced by Mark Tigerfish torpedoes. She was later also capable of firing the Harpoon anti ship missile.
Crew 71.
05 June 1964 commissioned.
She was the 11th boat of this class commissioned; altogether 13 boats of this class were built.
September 1990 she visited Pitcairn Island for two days, were she took part in the bicentennial celebrations.
She took part in Operation Desert Storm where she successfully landed Special Boat Service (SBS) teams into Iraq and occupied Kuwait for reconnaissance operations.
May 1991 she returned at HMS DOLPHIN, at Gosport in traditional Far East camouflage colours, flying the Jolly Roger a Royal Navy submarine symbol of successful war petrol.
26 October 1993 paid off.
October 1996 taken by Pounds yard at Portsmouth for scrapping.
The nameplate of HMS
OPOSSUM
was given to St. Edmundsbury council in commemoration of the submarine's association with the town of Bury St Edmunds.
Zambia 2001 K2000 sg?, scott 947B
Source: Ships of the Royal Navy by Colledge. The Worlds Navies by Chris Chant.
http://wikipedia.org/wiki/HMS_Opossum_(S19)