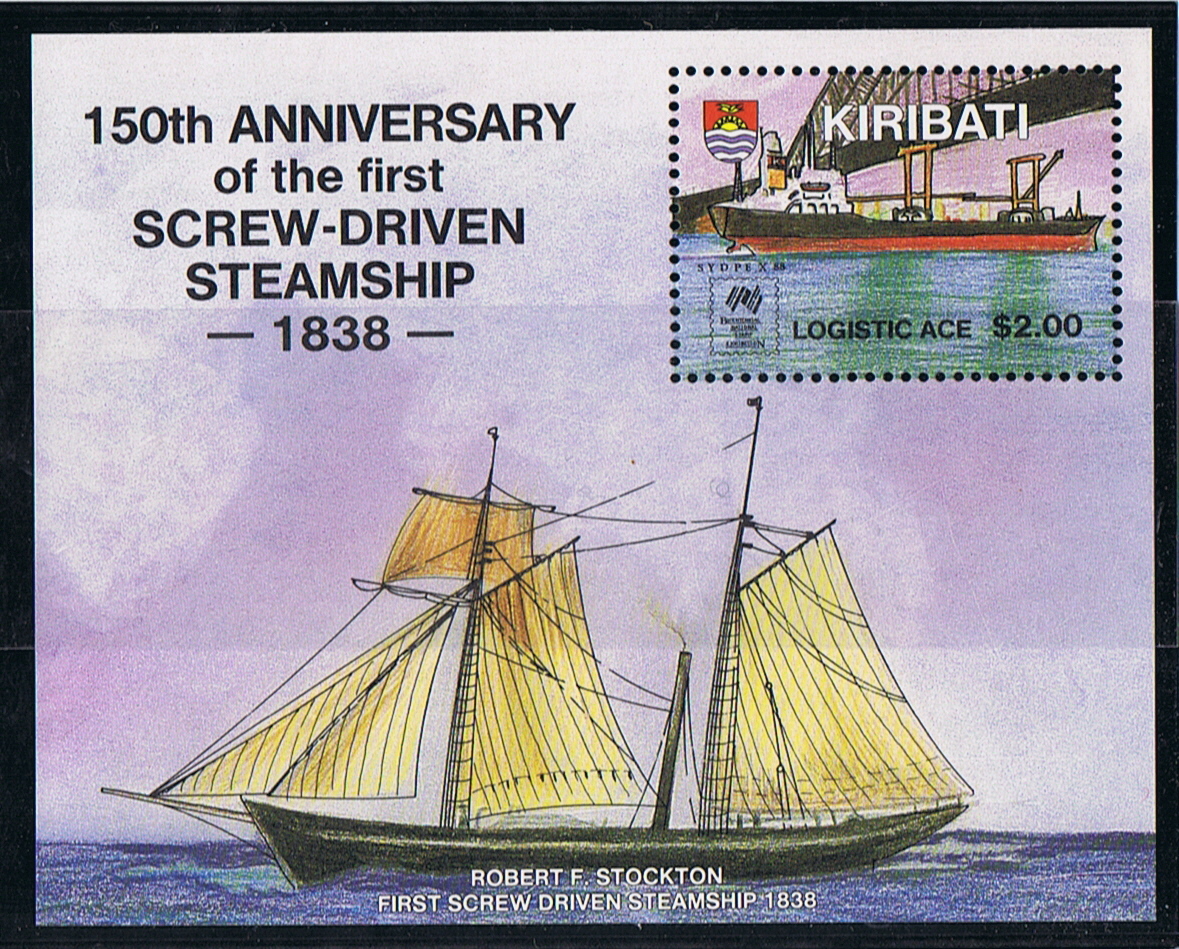 Built as a general-cargo vessel under yard 784 by Shikoku Dockyard at Takamatsu, Japan for the Wooster Corporation, Panama
1975 Launched under the name SUN VEGA.
Tonnage7.258 gross, 5.166 net, 12.247 dwt. dim. 139.68 x 19.26 x 8.38m. (draught).
Powered by one oil engine 4SA 14 cyl. Pielstick Ishikawajima Harima Heavy Ind., at Aioi, 7.420 hp. (5.458 Kw.), speed 14.25 knots.
April 1975 completed.
1977 Renamed in K.HELENA, and the same year renamed
LOGISTIC
ACE
.
Managed by Young Long Steamship Co. Ltd., Taipei, Taiwan.
1988 Sold by the Wooster Corp. to Inmobiliaria Panamena Agrupada S.A. Panama, renamed ABOITIZ SUPERCONCARRIER IV. Registered at the Philippines.
1989 Renamed ABOITIZ MEGACARRIER I.
1996 Sold to Sun Richie Five Bulkers S.A., St Vincent, renamed SUN RICHIE 5.
1999 Sold to P.T. Lestari Utama Lines, Indonesia, renamed LESTARI UTAMA.
2003 Sold to Bangladesh breakers and beached at Chittagong 16 April 2003.
Source Marine News 1989/410, 468. 1997/156. 2000/297 2003/372.
The vessel depict in the margin of the sheet is the ROBERT F STOCKTON.
She was built as an iron hulled vessel in 1838 by John Laird at Birkenhead for the American navy officer Robert F. Stockton.
Tons 32 ton burthen, dim. 21.3 x 3 x 2.1m.
Powered by a direct acting 50 hp. Steam engine, twin screws, speed 6 knots.
Capt Robert F. Stockton of the US Navy is entitled to the credit of being the first naval officer who heard understood and dared to set upon the suggestions of Ericsson as to the application of the propeller to ships of war.
The vessel was driven by a new design of screw, patented by the Swedish engineer John Ericsson, and first used on small experimental screw vessel FRANCIS B. OGDEN on the River Thames.
The engine was driving a two-screw system.
Original there was one screw on a solid shaft slipped inside a hollow outer shaft mounting, another screw that turned in the opposite direction, the system was not working and one screw was removed.
On trials at the Mersey and River Thames where she by towing the Packet TORONTO against a strong tide at the rate of 6 miles an hour (other sources give towed three barges against a 2 knot tide she made an average speed of 4.5 knots.)
Then she was rigged as a schooner, as seen on the stamp and sailed from England to New York without use of the engine in 44 days.
07 April 1839 she sailed from City Canal Dock, London under command of Capt. John R. Crane and a crew of 7 men.
21 May 1893 arrived at New York; average speed during the passage under sail 8 mile, at New York the machinery was again installed.
08 May 1840 she was renamed NEW JERSEY and changed to American registry.
Sold, an in use as a tugboat for service on the Delaware River in which capacity she was a great success, particularly in winter ice.
She towed barges on the Delaware River and Raritan Canal for about 30 years.
1871 Dismantled and scrapped.
The stamp you can see on
http://www.shipsonstamps.org/topics/html/antrieb.htm
(There is given that she was the first screw-driven ship crossing the Atlantic, which is not correct she made the passage under sail)
Kiribati 1988 $2 sg MS292, scott 508.
Source: Ships of the World by Lincoln P. Paine. Some web-sites. Queens of the Western Ocean by Cutler.