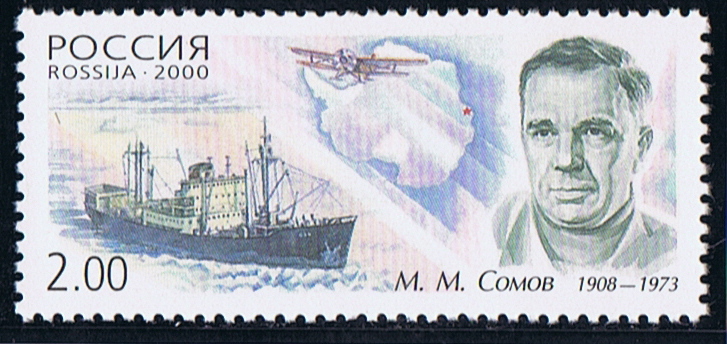 M.M.Somov (1908-1973). An oceanographer, a polar explorer, a doctor of geographical sciences, Hero of the Soviet Union (1951). He captained the expeditions "Sever"(1948-1949) (Central Arctic air exploration), the anchorless station "Severny Polus - 2" (1950-1957), the first Soviet Antarctic expedition (1955-1957). M.M.Somov was one of the pioneers who discovered the submarine ridge in the Northern Ocean (1948). He was the author of the works on the ice regime of the arctic seas and ice forecasts. The stamp features the picture of M.M.Somov. In the left part of the stamp there is a picture of diesel electric ship "OB'", which took part in scientific exploration of the Arctic and Antarctic regions. The upper part of the stamp features An-2 aircraft on the background of the outline map of Antarctica, with a dot showing the location of the Mirniy Observatory.
Details of the OB you can find in the index
Russia 2000 2.00R sg?, scott?