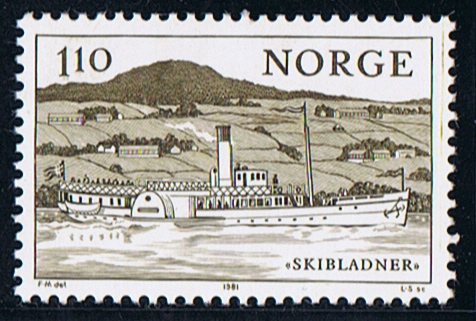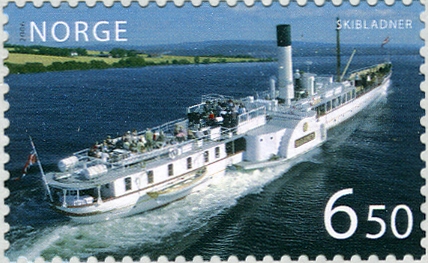 Built as an iron paddle paddle steamer on the Motala Verksted Shipyard, on the Vättern Lake, Sweden from 1854 – 1856 for the Oplanske Dampskipsselskap (Opland Steamship Co.)
When completed she was moved by lake and sea to Oslo, before loaded on a train and transported to Eidsvoll in sections, and assembled on the southern tip of Lake Mjøsa in the river estuary at Minnesund.
She was named
SKIBLADNER
she got her name from the Nordic mythology from the name of the fertility goddess Froya, who owned this boat. Legends tell of the boat's ability to sail on land as well as on water and of its eternal following wind. To get out of a tight spot, it could also be conveniently folded up and put into a pocket.
Tonnage ?, length 44.99m.
Powered by
22 July 1856 delivered to owners.
2 August 1856 she made her maiden voyage on the Mjøsa lake from Eidsvoll, with passengers and cargo to Lilehamar. When built she carried two funnels and not any mast.
From the beginning she carried also the mail; she still flies the post flag and carries a letter box on board.
She was in service around 9 months a year till the lake was frozen over and she was laid up in her winter berth at the Minnesund River.
1888 Rebuilt one funnel removed, mast added, lengthened and re-engined. By Aker Shipyard at Minnesund
Tonnage 264 gross, 68 net, dim. 47.54 x 5.02 x 1.67m. (draught)
One triple expansion steam engine, manufactured by Akers Mech. Verksted at Oslo, 606 bhp., speed 13.2 knots. Coal fired.
Crew minimum 6, maximum 16.
Accommodation for 230 passengers.
1921 Converted to oil burning.
1967 She sank for the second time along her winter berth, first at 1937 but both times salvaged.
After her last salvage she underwent a major restoration and the Oplanske Dampskipsselskap was reformed as a preservation venture and supported by the
Skibladner
's Venner (Friends of
Skibladner
)
She carries a small canon on her bow which can be fired on a fee.
1983 Was she reboilered.
1983 Got a broken crankshaft on the end of the season, and was not used in 1984 when she was under repair.
Between 1992 and 1995 underwent significant restoration work, was restored to her to near 1888 condition.
2005 Was she adopted by the Norwegian Directorate for Cultural Heritage for preservation.
Every summer from around mid-June to mid-August she is in service, sailing from Gjovik on a southbound voyage on Mondays, Wednesdays and Fridays, and on Tuesday, Thursday and Saturdays she makes a cruise in a northern course on the lake, every night she returns to Gjovik.
2007 Still in service on Lake Mjøsa as the oldest paddlesteamer in the world, nicknamed by the Norwegian people as the "White Swan".
Norway 1981 1kr10 sg 880 and 2006 6Kr50 sg?
Source: Steamships of Europe by Alistair Deayton.
http://findarticles.com/p/articles/mi_q ... i_n8807035
http://myweb.tiscali.co.uk/tramways/

Skibladner

.htm
and some other web-sites.