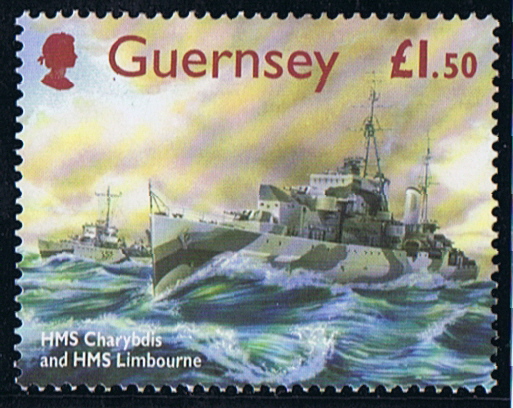 Built as a light cruiser under yard No 1041 by Cammell Laird Shipyard, Birkenhead, England for the Royal Navy.
09 November 1938 laid down.
17 September 1940 launched under the name HMS CHARYBDIS (88), one of the Dido class.
Displacement 5.600 tons standard, 6.850 tons full load, dim. 157.1 x 15.4 x 4.3m. (draught), length bpp. 147.8m.
Powered by four Parsons geared turbines, 62.000 shp, four shafts, speed 32.25 knots maximum.
Range 1.500 miles by a speed of 16 knots. Carried 1.100 tons fuel bunkers.
Armament: 8 – 4.5 inch, 1 – 4 inch, 8 – 20mmAA., 2 – 2pdr pom-poms. 2 – 21 inch torpedo tubes. In 1943 the 20mm guns were increased to 16 – 20mm AA guns.
Crew 480.
03 December 1941 commissioned under command of Captain G.A.W Voelcker.
After her trials joined the Home Fleet, and at the end of March took part in the mine-laying Operation S.N. 87.
April she sailed for Gibraltar and was transferred to the North Atlantic Command Force H.
During May and June was she in Force W for Operation L.B., in which HMS EAGLE delivered 16 Spitfires to Malta, and Operation Salient in which she escorted the aircraft carrier HMS EAGLE delivering 32 aircraft reinforcements to the besieged island of Malta. (The aircraft were always launched from the aircraft carriers when near the island,) only 30 arrived.
Thereafter she provided distance cover for the Malta convoy Operation Harpoon, the convoy sailed from Gibraltar on 12 June 1942 with 6 merchantmen, only two arrived at Malta.
She took also part in Operation Pinpoint (15 July) and Insect (21 July) in which HMS EAGLE delivered aircraft to Malta.
August 1942 took part in Operation Pedestal which left from Malta on 10th with 14 merchantmen, of which only 5 reach Malta.
17 August took part in Operation Baritone, when HMS FURIOUS took 32 Spitfires to Malta, only 29 arrive.
September and October the CHARYBDIS was on patrol in the Atlantic, searching for German Raiders and blockade runners.
Covered in October also HMS FURIOUS in Operation Train when this aircraft carrier, delivered 29 Spitfires to Malta.
25 November 1942 she was allocated to the 12th Cruiser Squadron in Force H, sailed from Gibraltar for Algiers carrying the Allied Force H.Q, of Operation Torch, the invasion of French North Africa.
12 December 1942 sailed for home waters and rejoined the Home Fleet.
The first three months of 1943 based at Scapa Flow, covering mine-laying operations and patrol duty in the North Sea.
April 1943 transferred temporarily to the Plymouth Command on the English South Coast, and used to give cover on convoys in the Bay of Biscay, and also used for patrol duties in the same area.
August 1943 returned to Gibraltar and used for escort of convoys in the Mediterranean.
September she joined Force V for Operation Avalanche, the landings in Salerno.
October she returned to her patrol area in the Bay of Biscay.
October 1943, when British intelligence indicated that an imported German convoy under which the blockade runner MÜNSTERLAND with on board an important cargo of latex and strategic metals was nearing the French coast, the convoy was well covered by a strong escort.
The British Navy reacted by executing Operation Tunnel, the navy brought together six destroyers, with the cruiser CHARYBDIS as command ship. Not any ship had worked together before.
The British force tried to intercept this convoy by steaming with a speed of 17 knots in a column three cables apart near to the French coast.
The CHARYBDIS picked up vessels on her radar screen some seven miles ahead, but she could not detect German radio communication, the next ship in the column was HMS LIMBOURNE which had his radar masked by the CHARYBDIS ahead of her. She picked up German radio communication which indicated her that at least 6 enemy naval vessels were close by.
These two vital pieces of information were not exchanged between the two British vessels, CHARYBDIS knew that enemy navel vessels were present but not how many, while the LIMBOURNE knows that at least six enemy naval vessels were close by, but not where.
At 1.38 a.m. of 23 October the German torpedoboat T23 one of the Elbing class sighted the CHARYBDIS a few miles north of the Sept Isles off northern Brittany, the CHARYBDIS was turning to port but she was hit by a full salvo of six enemy torpedoes. The first hit was in the port side near the boiler room, given the vessel a 20 degree list, the second hit about 5 minutes later hit her in the stern section, increasing the list to 50 degree, and put her dead in the water.
When the British destroyers were sighted they too were fired on, with LIMBOURNE hit by a torpedo.
There was confusion under the British vessels with both senior officer's ship sinking and communication between the ships gone. The German convoy escaped undamaged, headed east.
The CHARYBDIS sank at 02.30 by the stern when her bulkheads gave way; only 107 men were rescued, while 460 lives were lost including her commander Captain Voelcker.
1993 Was she located in a depth of 83 meter off the Sept Isles, Brittany.
The other vessel depict on the stamp is HMS LIMBOURNE.
She was built as a destroyer under yard No 590 by Alex Stephen, Linthouse, U.K. for the Royal Navy.
04 July 1940 ordered.
08 April 1941 laid down.
12 May 1942 launched under the name HMS LIMBOURNE (L57) one of the Hunt class.
Displacement 1.175 tons standard 1.561 full load, dim. 283 x 33 x 7.7ft. (draught)
Powered by steam turbines 19.000 shp., twin shafts speed 25 knots.
Bunker capacity 286 tons.
Range 2.350 miles by a speed 20 knots.
Armament: 6 – 4 inch., 4 – 2pdr. guns, 4 Oerlikons, 2 Lewis MG. 1 triple 21 inch torpedo tube, carried 50 deptcharges.
Crew 167.
24 October 1942 commissioned.
After commissioned and working up she escorted in November 1942 the battleship HMS HOWE to the Mediterranean and escorted the HMS DUKE OF YORK and VICTORIOUS back to the U.K.
Thereafter joined the 15th Destroyer Flotilla at Plymouth.
In January and February 1943 used for escort duties of convoys to Gibraltar and North Africa.
Then followed a month repair at the yard in Portsmouth to replace a damaged propeller.
Then she escorted the French battleship COURBET to the Clyde.
The next five months used for patrol duties along the French coast, protecting light forces and undertaking anti-submarine patrols in the Bay of Biscay.
04 October 1943 during an encounter with enemy destroyers north of Morlai, was she lightly damaged..
Then she took part in Operation Tunnel under command of Cdr. W.J. Phipps in which she was lost after she was hit by a torpedo fired from the German torpedoboat T 22 of the Elbing class.
The torpedo hit her forward, in which all her fore-end structure below the waterline, from just forward of the boiler rooms and the forecastle deck forward of the bridges was blown away.
She was taken in tow, but she jawed badly, the remainder of the crew taken off, and she was finally sunk by torpedoes of HMS TALYBONT and ROCKET.
One officer and 41 men were lost.
1993 The wreck was found by divers in a position about 5 miles from the CHARYBDIS.
On Guernsey 2002 £1.50 sg 983.
Source: mostly from
http://en.wikipedia.org/wiki/HMS_Charybdish_(88)
. And other web-sites. The Hunts by John English.