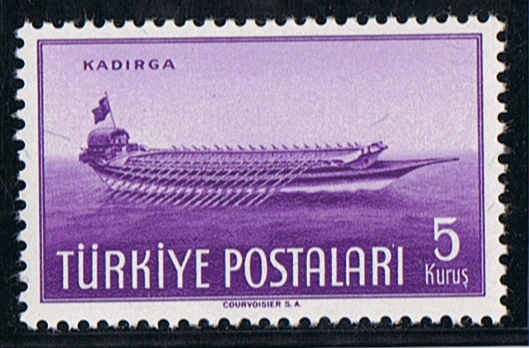 KADRIGA is the Turkish name for galley and she is the largest galley preserved at the Maritime Museum in Istanbul, and she is depict on this stamp of Turkey.
When built is uncertain it ranges between the reigns of Sultan Mehmet II (1451-1481) and that of Mehmet II (1648 – 1687).
Wooden carvel planked hull with dimensions of 36.9 x 5.7m.
Originally the vessel could carry a lateen sail.
She is a 48 oared galley and carried 144 oarsmen, with three men on a bench pulling a single oar. 24 banks of oars per side.
She was a narrow boat with a long beak at the bow and a rounded stern
The galley was steered by a rudder placed in the centre-line.
Just before where the steersman is standing is a cabin, supported by four arched silvered columns and worked in ivory and mother of pearl and decorated with rock crystal and turquoise stones.
She was mostly used for ceremonial occasions, but also used for extended voyages in the Black Sea and Sea of Marmara.
1885 She underwent extensive repairs, and samples of wood taken from the keel and floor and frames are from trees of the Black Sea coast between 1827-1860. (most probably not much of the originally vessel exist.)
The KADRIGA was used as late as the reign of MAHMUT II (1808-1839), after she was laid up at the Topkapi Palace.
1913 Moved to the Naval Arsenal at Kasimpasha where she remained till 1956.
She was then moved to Beshiktash, near the Bosporus and then to the Naval Museum in 1970, where she has been on exhibit till today.
On Turkey 1949 5k sg 409, scott 990.
Source: Ships of the World by Lincoln P Paine. And some web-sites.