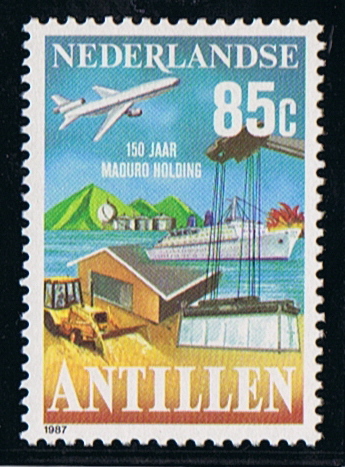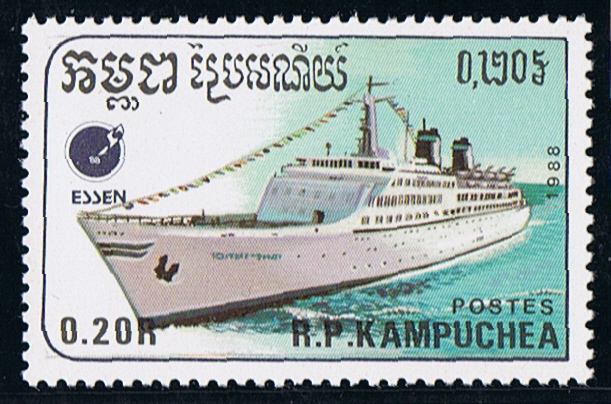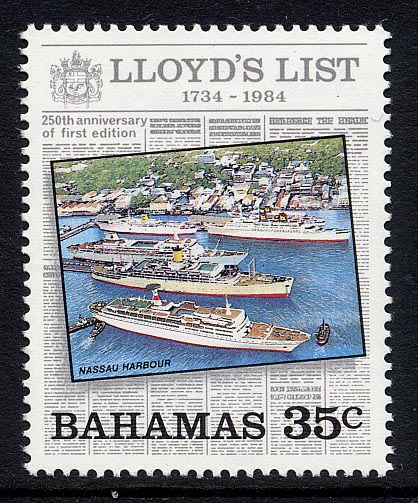 Built as a navy troop transport ship under yard No 276 by Federal Shipbuilding & Drydock Co., Kearny, N.J. for the U.S. Navy.
02 February 1944 laid down.
Her intended name was GENERAL R.M. BLATCHFORD but on 1 July 1944 was she renamed in GENERAL W.P.RICHARDSON (AP 118).
06 August 1944 launched under that name by Mrs. Brebon B Somervell.
Tonnage 11.450 ton displacement, dim. 622.7 x 75.6 x 25.6ft. (draught).
Powered by two geared Laval steam turbines 18.700 shp, speed 21 knots.
Accommodation for 5.289 troops and a crew of 466.
Armament 1 – 4.5 inch gun, 16 – 1.1 inch, and 20 – 20mm guns.
31 October 1944 acquired by the US Navy.
02 November 1944 commissioned at Bayonne N.J. under command of Captain Joseph S Rosenthal.
10 December 1944 sailed from Boston for her maiden voyage with on board more as 5.000 troops bound for Southampton, where she arrived on 21 December. The returned to the States with troops and casualties and arrived New York on 04 January 1945.
14 January she sailed from Newport News with on board 5.000 troops for Naples, where she arrived on 25 January, after embarking causalities and rotation troops she sailed back across the North Atlantic to Newport News where she arrived on 9 February 1945.
She made then an other voyage to Naples with more as 5.000 troops, after embarking she carried 5.500 British troops to Marseilles, before she sailed again to Naples, where 4.600 US troops boarded her for a voyage home, arrived Boston 21 March.
Then she sailed in April to Le Havre with on board 2.500 men, after disembarking she embarked 1.000 liberated American prisoners of war from France, then she sailed to Southampton were she embarked 2.900 troops and casualties for New York, where she arrived on 28 April 1945.
Then she made a troop voyage from New York via Trinidad to Naples, and after returning to New York she sailed to Southampton to embark 4.300 troops and wounded men, arriving Boston 26 June.
During the summer and fall she made four return voyages between Boston and France.
14 October she sailed from Boston to Karachi, India via de Suez Canal, where she embarked more as 5.000 war veterans for New York, arriving there 24 November 1945.
Then an other voyage with 4.500 troops from New York to Naples, where she arrived on 10 December, then she sailed via the Suez Canal to Khorramshahr, Iran where she embarked 3.800 men of the Persian Gulf command, she returned via Naples and Casablanca to New York where she arrived 23 January 1946.
14 February 1946 decommissioned at New York and handed over to Maritime Administration for peacetime operations as an Army Transport until 10 March 1948. Thereafter returned to the Maritime Administration by the U.S. Army and laid up.
06 May 1949 chartered by the American Export Line Inc. for two years, as a passenger liner, she was renamed LAGUARDIA, in honour of a mayor of New York.
After a refit of $5 million, she appears again with a passenger accommodation of 157 first class and 452 tourist class.
27 May 1949 sailed for her maiden voyage as a passenger vessel from New York for Naples and Genoa; in this service she made five round voyages.
12 October1949 in the service between New York and Haifa, her last (fourth) in this service was with sailing from New York on 13 November 1951
13 December 1951 she returned to the Military Sea Transport Service, and laid up at the James River.
July 1955 sold to the Hawaiian Steamship Company (Textron Inc. New York) got thereafter a refurbishment of $ 4 million by the New York Shipbuilding Corporation at Camden.
Renamed in LEILANI meaning lovely flower, with a gross tonnage of 18.298 ton, and a passenger accommodation for 650 passengers only tourist class.
14 January 1957 sailed from New York for a positioning voyage to Los Angles.
Then in a cruise service between Los Angles and Hawaii, her first sailing in this service was on 05 February from Los Angles.
Booking was low and the company did run in financial trouble in 1958 and by the end of that year the company could not pay her mortgage, and the last voyage of the LEILANI ended in San Francisco on29 December 1958.
She was handed back to the Military Sea Transportation Service, and laid up.
1960 Sold to the American President Lines at San Francisco, and renamed PRESIDENT ROOSEVELT, she sailed to the Puget Sound Bridge and Drydock at Seattle for a $10 million refit in a luxury passenger liner on 1 March 1961 the yard commenced work on her.
She was delivered to the company on 16 April 1962 with a gross tonnage of 18.920 ton, and accommodation for 456 passengers in only first class.
10 May 1962 sailed out for her new owner from San Francisco to Yokohama and other ports east.
By 1970 passenger service across the Pacific was dying out and the APL sold the PRESIDENT ROOSEVELT to the Chandris Line in1970 for US$ 1.8 million.
10 April 1970 handed over to new owners at San Francisco and renamed ATLANTIS, she was placed under the ownership of Solon Navegacion S.A., Piraeus, Greece.
She sailed then to the Chandris Ambelaki Shipyard in Greece for a US$8.5 million refit as a cruiseship.
Passenger accommodation increased to 1.092 in one class, but when cruising only 756 passengers.
Gross tonnage increased to 24.458 passengers.
Her rebuilding was completed in Rotterdam, and she left from this port on 20 June 1971, without any passengers, she crossed the North Atlantic arriving New York on 29 June.
02 July 1971 sailed for her first 7 day cruise from New York to Freeport and Nassau.
She was a bad investment for the Chandris Line bookings were low, and her steam turbines were using exorbitant amounts of fuel.
After six months in service Chandris offered her already for sale.
31 January 1972 was she sold to the Eastern Steamship Lines Inc. for US$13 million, and she would be handed over in October that year to her new owners.
After her summer cruises, she was handed over to Ares Shipping Corp. Monrovia, and renamed EMERALD SEAS, with a gross tonnage of 18.936 tons.
08 December 1972 used in the cruise service from Miami to Nassau for her new owners and in the funnel colours of the Eastern Steamship Lines.
1984 Sold to Commodore Cruise Lines, Panama (Gotaas-Larsen Shipping Corp.), still used in the cruise service from Miami to Nassau, management was by Admiral Cruises.
30 July 1986 she suffered an explosion in a storeroom follow by fire when she was off Little Stirrup Cay in the Bahamas, on a short cruise from Miami in which 18 people were injured by inhaling fumes. She returned to Miami where she arrived 31 July 1986.
20 February 1992 she sailed for the last time for Admiral Cruises from Fort Lauderdale after her return laid up in Port Everglades , renamed FANTASTICA, FUNTASTICA, TERRIFICA and SUN FIESTA (If she has sailed under this names is doubtful.)
1992 Sold to Selsdon Maritime Corp., Liberia, managed by Seafast Cruises, Monrovia, renamed SAPPHIRE SEAS.
January 1994 towed by the tug HISPANIA to Greece.
09 July 1994 made some weekly cruise voyages from Piraeus to several Greek Islands , Kussdasi and Haifa.
Later sailed to Eleusis near Piraeus and laid up again on 8 October 1994.
After a quick refit she sailed to Limassol where she arrived on 10 July 1996. Two day later arrested, and put up for auction by the Marshall of the Admiralty Court on 16 October, which did not receive any bids, and the vessels stayed at anchor off Limassol.
13 June 1997 she sailed for Piraeus, still under arrest, after arrival she stayed idle.
Early 1998 sold to Excellence Hold S.A., Panama, (a group of Greek banks.) renamed OCEAN EXPLORER. I
It was given a US 4.5 million refit
The same year used as a floating hotel at Lisbon for the EXPO 98, thereafter she returned to Eleusis.
November 1999 chartered for one year by the Canadian World Cruises Company for three world cruises,
19 November 1999 she sailed for her first world cruise from Piraeus, and after 127 days and visiting 35 ports in 23 countries she arrived back in Piraeus on 25 March 2000
Due to not reaching her required charter speed, reducing the time in ports and the high consume of fuel oil, the second voyage was postponed, and the vessel was handed back to owners.
OCEAN EXPLORER I was again laid up, and put up for sale.
July 2001 used as a floating accommodation ship for support personnel involving the G8 summit meeting at Genoa, Italy. After the meeting again laid up at Eleusis Bay, Greece.
To use her as a floating hotel during the 2004 Olympic Games at Athens fell through.
July 2004 sold to Indian shipbreakers.
November 2004 she left Greek waters under tow, arrived Alang, December, and was beached on 11 December 2004, and by the middle of 2005 she was complete gone.
(One the Bahamas stamp is she the ship alongside the far dock astern of the FLAVIA.)
On Bahamas 1984 35c sg 677.
Kampuchea 1988 20c sg 891
Netherlands Antillen 1987 85c sg 933.
Sources US Passenger Liners since 1945. Dictionary of American Naval Fighting Ships. Marine News.
http://www.faktaomfartyg.com
The Chandris Liners and Celebrity Cruises by Peter Plowman.