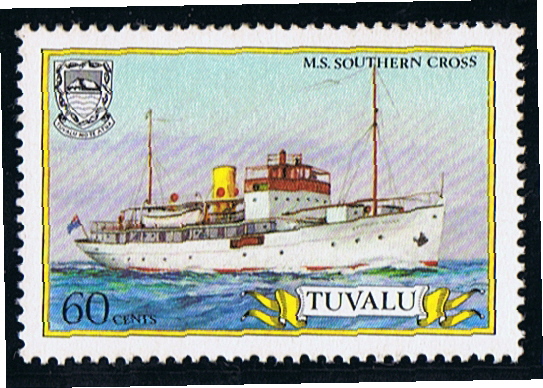 She was built under yard No 994 by Cammell Laird, Birkenhead for the Melanesian Mission.
04 July 1933 Launched under the name
SOUTHERN
CROSS
(VII)
Tonnage 298 grt. Dim. 120 x 28.5ft.
Powered by 120 hp diesel engine, speed 9 knots.
During World War II sailed as HMAS
SOUTHERN
CROSS
(FY 17) by the Australian Navy.
Armament 2 – 0.3 inch Vickers, 1 – 0.5 inch Browning.
29 March 1941 requisitioned as an examination vessel, commenced service 18 June 1941.
Later that year used as a store carrier.
1946 paid off and handed back to the mission.
A photo you can find on
http://users.chariot.net.au/~lenshome/auxilliaries.htm
Have not found her fate.
SG445
Source:
http://www.miramarshipindex.org.nz
Australian and new Zealand Warships 1914-1945 by Ross Gillett.