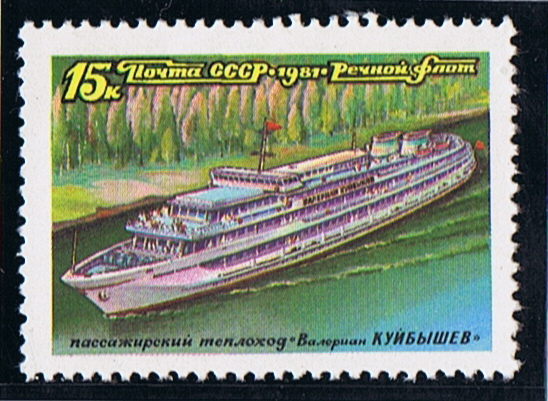 Built as a passenger ship for inland waters, she is one of the projects 92-016 (type VALERIAN KUYBYSHEV, Slovakian designation OL400, osobna lod 400, passenger ship for 400 persons.)
She are the large passenger vessels intended for work on the river cruise routes, she were the largest ships of this class.
She have single, double and 3-bed cabins, equipped with toilets, showers and air condition, two restaurants, bar, two saloons, cinema hall with removable roof, souvenir shop.
In recent years cabin equipment on some ships was modernized for maintenance of their correspondence to modern standard.
Since 1976 till 1983, 9 vessels of this type have been built.
All the ships of this type belong to the Volga Shipping Company; they operated on the River Volga, and also on the Volga-Balt waterway. She works also on the tourist route from Moscow to Saint Petersburg and on the Volga routes. In internavigational periods ships may be used as floating hotels.
The VALERIAN KUYBYSHEV the lead ship of the class was built in 1976 as a tourist passenger motorship by the Slovenska Lodenice n.p. Komarno in that time still Czechoslovakia.
Dim. 135.8 x 16.8 x 2.9m.
Displacements 4.080 tons, four/five decks, accommodation for 400 passengers.
Powered by a diesel engine 3.000 hp., speed 25 km an hour.
2004 still sailing for the same company.
On Russia 1981 15k sg 5145.
http://www.riverships.ru/english/types/ ... pecs.shtml