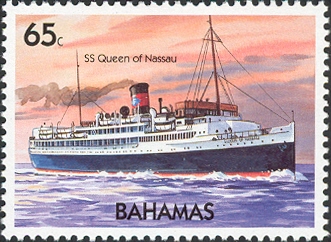 Built as a passenger vessel under yard No 518 by William Cramp & Sons Shipbuilding Comp., Philadelphia, Pennsylvania for the Nova Scotia SS Corp. (Eastern Steamship Lines, Inc.), Portsmouth N.H., USA.
06 November 1926 launched under the name YARMOUTH.
Tonnage 5.043 gross, dim. 116 x 17m.
Powered by steam turbines 7.500 hp, twin screws, speed 19 knots.
Accommodation for 589 first and 162 second class passengers.
1927 Completed.
09 July 1927 Maiden voyage from Boston to Yarmouth, Nova Scotia.
12 July 1936 she collided with the cargo vessel LOSNAR in Boston harbour.
1942 Army transport, she was on bare-boat charter.
28 February 1947 returned to service, and put in the liner service from New York to Nassau, Bahamas.
29 May 1947 again in the service from Boston to Yarmouth during the summer months, and cruising during the winter months from Nassau.
1954 Sold to McCormick Shipping Corp., Panama, (Eastern Steamship Company) renamed YARMOUTH CASTLE. Later that year renamed in QUEEN OF NASSAU. Was then used in three and four day cruises from Miami to the Bahamas.
1957 Again renamed YARMOUTH CASTLE, after a refit a swimming pole was added and air condition fitted in the public rooms, thereafter used for cruises from New Orleans and Washington D.C. to the West Indies. Accommodation for 500 first class passengers.
When in 1958 she was placed in cruise voyages from Boston to Yarmouth she was again renamed in YARMOUTH.
She was that year fitted out with air-conditioned in each room, and her passenger accommodation was reduced to 365 passengers.
1962 the company was bought by W.R. Lovett of Jacksonville and the YARMOUTH was register under the ownership of Evangeline Steamship Co., Panama.
1963 Sold to Yarmouth Steamship Co. Inc., Panama (Yarmouth Cruise Lines, Inc., Miami). She was sent out west via the Panama Canal to San Francisco from where she would make 10 days cruises to the Seattle World Fair. She carried still the Panama flag and the YARMOUTH had to disembark her passengers in Victoria, Canada and the passengers then took the ferry to Seattle.
After the fair closed the YARMOUTH sailed back to Miami and commenced a series of twice-weekly cruises from that port to Nassau.
After her sister the YARMOUTH CASTLE (on a stamp of the Bahamas issued in 1988) was lost by fire on 13 November 1965, bad publicity on the loss of this vessel did the Yarmouth Steamship Co. not any good.
The YARMOUTH after taken out of service in December 1965 for safety equipment check, and proven satisfactory, got back to service on 20 December, but bookings were so low that between January till March 1966 she carried only 3.478 passengers on her twice-weekly service to Nassau, and in April she was taken out of service, laid up at Miami under the name SAN ANDRES.
1967 Sold to Hellenic International Lines S.A., Piraeus (Constantine Angelis) and renamed
ELIZABETH A.
The plan was to use her for cruises in the Mediterranean but she was after arrival laid up in Piraeus and not any work carried out to refit her.
1968 Sold to Portside Shipping (Cyprus) Ltd., Famagusta. Still laid up at Piraeus.
Till she was sold in December 1977 to a scrapyard in Greek she was laid up.
Sources: Register of Merchant Ships Completed in 1927. US Passenger Liners since 1945 by Milton H Watson.