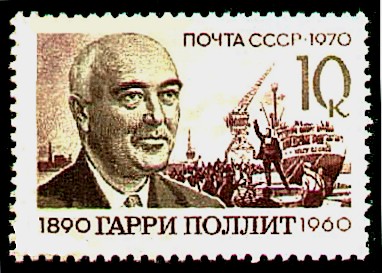 Built as a cargo vessel under yard No 51 by Wood, Skinner & Co., Newcastle for Cia Maritima, Barcelona.
Launched under the name BALBOA.
Tonnage 1.324 gross, 817 net 1.904 dwt, dim. 239 (bpp.) 33.2 x 12.5ft
One triple expansion steam engine 171 nhp., and one single ended boiler, manufactured by N.E. Marine Engineering Co. Ltd, Sunderland, service speed 9.5 knots.
One deck four bulkheads.
November 1894 delivered to owners. Homeport Barcelona.
1898 Sold to Balboa SS Co., Ltd. (R.Macandrew & Co.), Liverpool.
1916 Sold to Entente SS Co., Ltd. (Leopold Walford (London), Ltd.), London.
1920 Renamed JOLLY GEORGE, same owners.
After World War I the Allies were trying to prevent the Bolsheviks from gaining power in Russia, the JOLLY GEORGE was chartered to load ammunition and supplies in London for Russia.
10 May 1920 the pro-communist dockers refused to load the vessel. It is believed that Harry Pollitt, whose picture appears on the stamp, was behind the action.
1921 Transferred to the Walford Lines Ltd., not renamed.
Walford Lines were a tramp company formed as Leopold Walford & Co. in 1910. They operated second hand tonnage and by 1921 had twenty six vessels spread over six companies. Most of their trade was to the Mediterranean/Black Sea and Baltic.
They withdrew from deep sea trading in the mid 1920's and then operated 15 steamers on UK coastal trade.
1923 Sold to Barzilay & Benjamin, Istanbul, Turkey renamed SEBAT.
1944 Sold to T.C. Münakalat Vekaleti Devlet Denizyollari vi Limanlari Isletme U.M., Istanbul, not renamed.
1949 Deleted from Lloyds Register, but she was broken up in La Spezia, Italy in 1951, where she arrived on 27 July 1951.
Source: Register of Merchant Ships Completed in 1894. Log Book. Info received from Mr. John D. Stevenson.