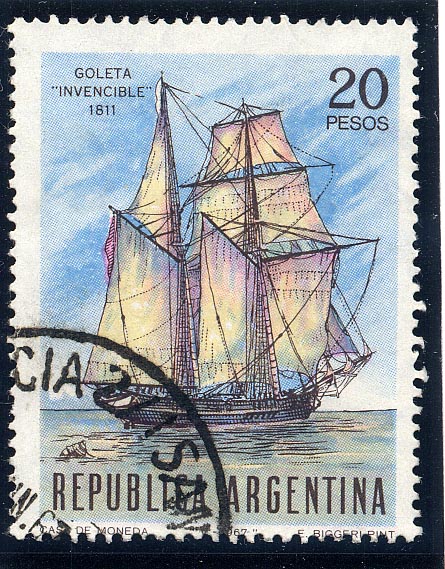 A most attractive stamp picture of the galeta Invencible which was commanded by Lt.-Col. Azopardo during the Battle of San Nicolas on March 2, 1811, has been issued by the Argentine Republic. The engagement took place during the war with Spain, after the revolutionary junta in Buenos Aires rose against the Spanish forces on May 22-25, 1810, expelling the Spanish Viceroy of the River Plate from Buenos Aires.
The engagement in which the Invencible took part was fought on the River Parana, about two miles downstream off the town of San Nicolas. The insurgent flotilla took up position in the Narrows, formed by the Carraneo Island. There were only three units in the insurgent fleet, the schooner La Americana, 12 guns, 66 crew; the brig 25 de Mayo (which is depicted on an earlier Argentine stamp) 18 guns, crew of 108, and the sloop Invencible 3 guns, crew 26.
The outcome was a crushing defeat for the revolutionary junta's forces. The only reason for its commemoration by the present Argentine Government is the fact that it was the first time any Argentine ship had been engaged in battle. It was as the result of this battle that a permanent naval force came into existence to defend the shores of the newly-independent colonies after the war of freedom.
SG1200 Sea Breezes 11/67