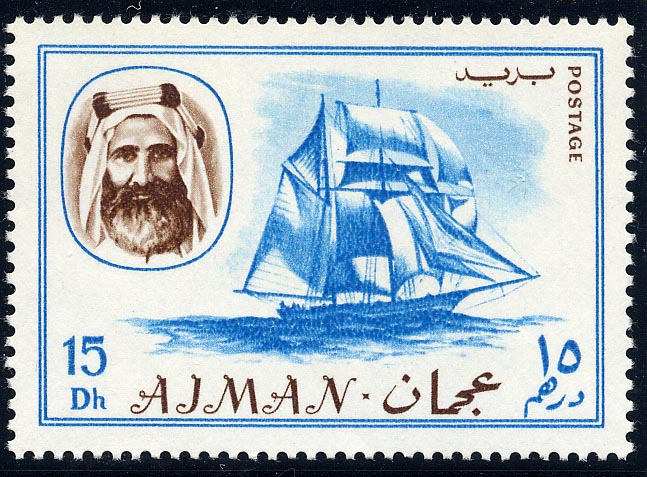 The stamp of Ajman depicts the famous American yacht Yankee, which made a number of world cruises without, as far as I am aware, calling at Ajman or even the Persian Gulf. Her appearance on the stamp is probably because she will appeal to American philatelists and thus help to swell the Ajman coffers of state.
The Yankee is given detailed description in both Underhill's "Sail-training and Cadet Ships" and Alan Villiers' "Men, Ships and the Sea". The stamp illustration appears in the latter book. The vessel was built as a pilot cutter in 1913 by Nordseewerke, Emden, for the Emden Pilot Station. The keel was laid on October 29, 1912. Her original name was Emden.
At the end of the First World War she was transferred to Cuxhaven Pilot Station and renamed Duhnen, operating for the port of Hamburg until 1936, when she became a training ship. She was at Calshot after the war, at the Royal Air Force base, where she was bought by Cmdr. Irving M. Johnson, of the United States Navy. He sailed her on 18-month world cruises, with an amateur crew of young people who shared voyage expenses, after she had been converted from schooner to brigantine rig at Brixham, by Uphams.
Her last world cruise was in 1957-8. She was later owned by Mr. Reed Whitney, of Nantucket, and Capt. Mike Burke, Windjammer Cruises, Inc., of Miami. She was driven aground on a coral reef at Rarotonga, Cook Islands, in July 1964.
SG140 Sea Breezes 11/67