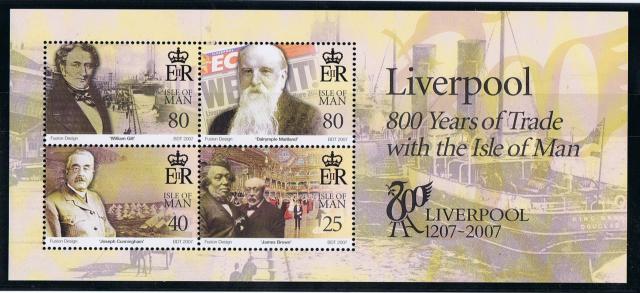 Isle of Man issued in 2007 an m.s. for the "Liverpool 800 years of trade with the Isle of Man". In the margin of the stamp is depict a steamer, the name is partly readable as
KING
OR… with homeport Douglas.
The only
KING
ORRY
is in the fleet of the Isle of Man Steam Packet Co., she must be the vessel built in 1871 the only
KING
ORRY
with two funnels. She appears for the first time on a stamp, and below is her history and details.
Built under yard No 56 as an iron paddle steamer by R. Duncan Co., Port Glasgow, Scotland for the Isle of Man Steam Packet Company.
27 March 1871 launched under the name
KING
ORRY
(2).
Tonnage 806 gross. Dim. 260 x 29.4 x 14.7ft.
Powered by 2-cyl simple oscillator steam engines 591 nhp., manufactured by Rankin and Blackmore speed 15 knots.
Accommodation for 1104 passengers, crew 47.
May 1871 completed, building cost £26.000.
Used in the passenger service between Liverpool and Douglas, Isle of Man.
1888 Lengthened by Fairfield & Co. with 30ft. and fitted out with new engines compound diagonal steamengines, manufactured by Westray, Copeland & Co. 4.000 ihp., and reboilered by J.Jones & Co., speed increased to 17 knots. Tonnage increased to 1.104 gross.
1895 Fitted out with electric lighting installation.
After 41 year of service was she broken up in 1912 in Llanerchymor.
Source: Wast Coast Steamers by Duckworth and Langmuir. Island Lifeline by Connery Chappell.