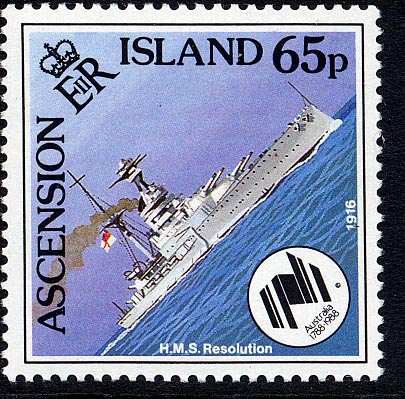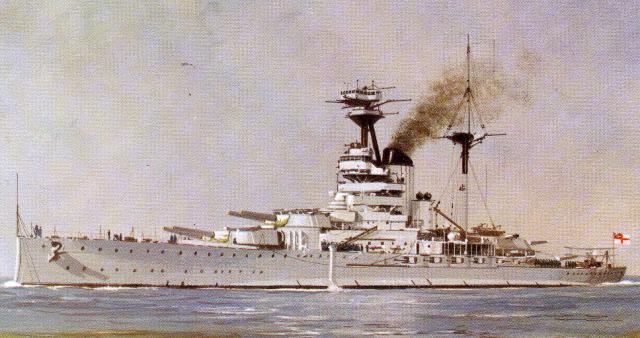 Built as a battleship under yard No. 838 by Palmers Shipbuilding & Iron Co. Ltd., Jarrow-on-Tyne for the Royal Navy.
29 November 1913 laid down.
14 January 1915 launched under the name HMS RESOLUTION (09) one of the Revence class. (She was the 16th ship in the Royal Navy that carried that name.)
Displacement 29.150 tons standard, 33.500 tons full load. Dim. 189 x 31 x 9.3m. (draught), length on w.l. 187m.
Powered by Parsons geared steam turbines, 40.000 shp, four shafts, speed 23 knots.
Bunker capacity 3.400 tons fuel oil and 160 tons coal.
Armament 8 – 15 inch, 12 – 6inch, 8 – 4 inch, 4 – 2drs. Guns, and 16 Bofors 40 mm guns.
Crew around 1100.
30 December 1916 commissioned. Building cost £2.449.680.
After commissioned joined the Grand Fleet in the 1st Battle Squadron till 1919.
From 1919 till 1926 in the 2nd Battle Squadron of the Atlantic Fleet.
From 1926 in 1st Battle Squadron of the Atlantic Fleet.
Between 1930 and 1931 underwent a refit.
1936 In reserve.
From 1936 a unit of the Home Fleet in the 2nd Battle Squadron.
When the Second World broke out in September based at Plymouth for the defence of convoys again German surface ships in the SW Approaches.
October 1939 transferred to Halifax for the defence of the North Atlantic convoys between Canada and the U.K.
From February till March 1940 underwent a refit by the H.M Dockyard in Devonport.
After completing used with the Home Fleet for the military operations in Norway.
16 April hit starboard aft Y turret by a 250lbs amour piercing bomb during air attacks when at anchor off Tjeldsundet near Narvik.
18th April released from operations and returned to the U.K.
In June escorted and protected returning convoys after the evacuation of Norway.
Then again under repair.
26 June joined Force H based at Gibraltar.
2 July took part in the attack on the Vichy French warships at Mers-el-Kebir.
Then used for the protection of convoys to Malta.
September used to cover the landings of the Free France troops at Dakar in Operation Menace.
25 September hit by a torpedo from the Vichy French submarine BÉVÉZIERS on her port side in which she got major structural damage, she got some flooding and got a list of 15 degree, she had to withdraw from operations.
27 September taken in tow by the HMS BARHAM to Freetown, where temporary repairs were carried out before she returned to the U.K.
There was not any placed free in the U.K to be repaired and in March 1941 sailed to Philadelphia for repair on the US Navy Dockyard.
September 1941 undertook some trials after her repair before she sailed to the U.K.
November 1941 joined the Home Fleet at Scapa Flow for defence duty.
January 1942 transferred to the East India Station to join the 3rd Battle Squadron. She made the passage to the East India Station as escort in the Military Convoy WS15.
At Cape Town she left the convoy and headed to Colombo to join Force B.
After the loss of HMS CORNWALL and DORSETSHIRE was she transferred with Force B to Kilindini in Kenya for convoy defence till February 1943 along the East African coast.
Then used to protect military convoys to Australia from the Middle East.
April again used for protection of convoys in the Indian Ocean.
October 1943 withdraw from operational duty and returned to the U.K.
November after her return in the U.K. reduced to Reserve Status.
December fitted out for her roll as training vessel.
From January used as training vessel.
After WW II still in use as a training vessel for new entry ratings, she was also put on the Disposal List.
05 May 1948 sold to Metal Industries, and arrived at Faslane 13 May to be broken up.
Ascension SG464
Source:
http://en.wikipedia.org/wiki/HMS_Resolution_(1915)
and many web-sites more.