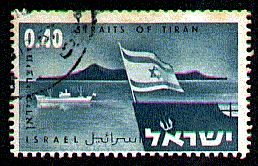 The vessel depict on this stamp is the cargo vessel DOLPHIN with the bow of an other ship, when she was passing the Strait of Tiran.
Built as a cargo vessel under yard No 335 by the Blyth Drydock & Shipbuilding Co., at Blyth, U.K. for Wahl & Co., Oslo.
Launched under the name NUSKEN.
Tonnage 2.431 grt, 1.377net, 3.550 dwt, dim. 330 x 46.4 x 18.11ft.
Powered by one triple expansion engine, manufactured by North Eastern Marine Eng. Sunderland, 1.820 hp., speed 12 knots.
1948 Delivered to owner.
1955 Sold to Mariehamn Rederi A.B. (Gustaf Erikson) Mariehamn, Finland, renamed HAMNÖ.
1966 Sold to A Charissiadis S.A. Greece, renamed ARION.
1967 Sold to Zim Israel Nav. Co., renamed DOLPHIN.
1968 Sold to Dolphin Maritime Corp., Liberia, renamed DOLPHIN II
March 1972 sold for scrap to Brodopas, Split, Yugoslavia.
She is on Israel 1967 40a sg 362 scott 346.
Source: Lloyds Register 1955/56. Register of Merchant ships completed in 1948.