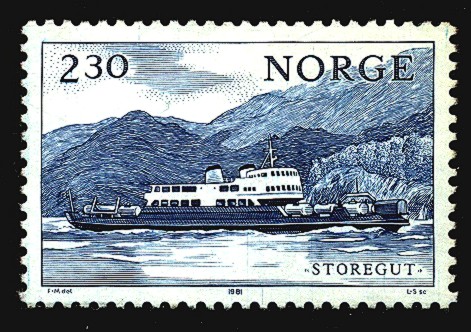 Built as a ferry under yard No 150 by Glommen Mek. Verksted, Frederikstad for the Norsk Transport A/S (Norsk Hydro Rjukan).
25 May 1956 launched under the name
STOREGUT
.
Tonnage 1.119 grt., dim. 92 x 13 x 3.8m. (draught).
Powered by three 6-cyl diesel engines each 750 hp., speed 13.5 knots.
Could carry 19 – 21 railway wagons and 85 passengers.
Crew 6.
She was transported in sections to Tinnoset were she was assembled.
12 September 1956 completed.
She was first used as a passenger/railway ferry on Lake Tinnsjø between Mæl and Tinnoset a distance of 30 km.
After 1985 only used for railway service to transport the fertiliser from the Norsk Hydro plant.
1991 She was taken out of service, and laid up at Mæl.
2007 Owned by Stiftelsen Rjukanbanen, her future uncertain.
She is on Norway 1981 2k30 sg 883.
Source:
http://www.fjordfaehren.de/no/fjord_s2.htm
Wikipedia.
http://www.miramarshipindex.org.nz