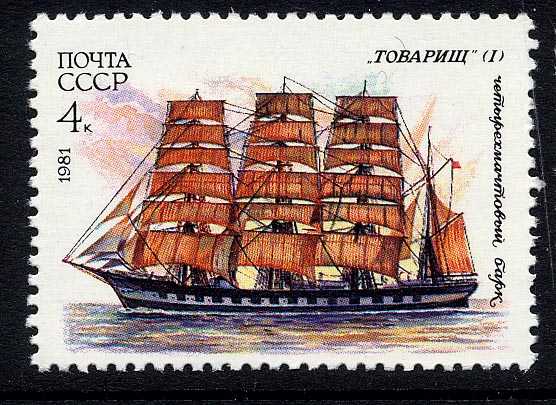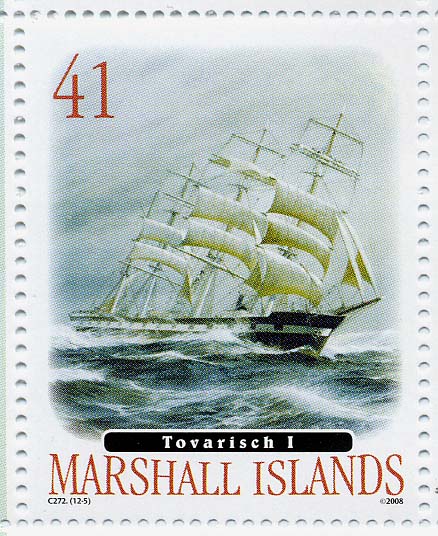 Built as a steel four masted cargo sailing ship by Workman, Clarck & Co., Belfast for Galbraith & Moorhead, London.
17 October 1892 launched under the name LAURISTON.
Tonnage 2.301 grt, 2.133 net, dim. 86.71 x 12.80 x 7.41m.
Ship rigged.
Two decks.
She was built for the East India jute trade, her first captain was W.Latta.
Made some quick passages to the East.
1897 Liverpool Rangoon where she arrived 20 July after a passage of 95 days.
1899 Holyhead to Calcutta where she arrived 26 May after a passage of 96 days.
1900 Sold to Galbraight, Hill & Co., London.
1901 Liverpool to Rangoon where she arrived on 06 September after a passage of 106 days.
1905 Sold to G.Duncan & Co., London.
1908/1909 Reduced to barque rig, to allow for a reduced crew.
June 1910 Sold to Cook & Dundas at London for £4.000.
1913 Sold to Tatal Shipping Co. (Cherey, Eggar & Forrester), London.
Autumn 1914 sold to the Russian Government for use as a towing barge for supplying war material from the U.K to the Russian White Seas ports.
Until 1916 she carried rail tracks for the Murmansk to Petrograd (now St Petersburg) railway an important railway connection for supplying the Russian troops, after German blockaded the Baltic for entry of ships bound for Russia during World War I.
Thereafter used as coal barge for the Russian Northern Flotilla minesweepers.
From 1917 managed by the Hudson Bay Co., London (I think after she was taken back to the U.K.)
1918-1919 The British forces occupied Northern Russian ports, and the LAURISTON was taken back to the U.K.
1921 Handed over to the Soviet Government, and after some repair in August 1921she made her first voyage under Soviet flag with a crew of 50 men and under command of Capt. K Anderson an Estonian, fully loaded with railway tracks from Petrograd to Tallinn, and then with a full load of flour back to Petrograd, at that time there was a great famine in the Soviet Union.
1922 It was decided by the Soviet Government to convert her in a sailing training vessel.
Early 1922 her conversion began at Petrograd, adding accommodation for 120 cadets and a mess-room for 80 cadets.
Early 1923 was she ready for sea, and she was renamed TOVARITSCH (Comrade) with port of registry Petrograd.
August 1924 she sailed from Leningrad (After the dead of Lenin in 1924 was Petrograd renamed in Leningrad.), under command of a British Captain and with on board sixty cadets of the Leningrad Nautical College. The British Captain deserted the ship in Port Talbot, and the TOVARITSCH returned home under command of the first officer S Nikitin with a cargo of coal.
1925 Command was taken over by Captain Trautmann, and after a dry-dock period in October 1925 at Kiel, Germany, she sailed for Lysekil, where she loaded granite boulders for Rosario, Argentine, needed there to build a new port
After sailing with on board 3.400 ton granite she met terrible weather in the North Sea and was set to the North far off course, forcing Capt Trautmann after 17 days to take shelter in Vardoe, (Vardø) North Norway. (that was far off course)
From there she sailed to Murmansk for repairs, a new master was appointed Captain Dimitryi A Louhmanov (1867-1946).
29 June 1926 she sailed from Murmansk and put in at Southampton for some repairs on 01 August, she left Southampton in September 1926 and after a passage of 98 days she arrived at Montevideo. From Montevideo was she towed to Rosario
Her passage from Sweden to Rosario had taken 12 months.
From Rosario she sailed (or was towed) to Buenos Aires. She was the first Soviet ship which visited Uruguay and Argentine
12 January 1927 command was handed over to Ernst I Freiman her first officer.
.
20 April 1927 she left from Buenos Aires loaded with timber bound for Leningrad, she made a call at Dover on 06 July 1927 where her crew and cadets total 83 persons was going shopping and the vessel stored.
12 August 1927 she arrived at Leningrad, and that was her first and last ocean voyage under Soviet flag.
Her next training voyage was from Holtenau, Germany to South America in ballast, when she was passing down-Channel she came in collision with the Italian steamer ALCANTARA in the night of 24 February 1928 off Dungeness. The bow of the TOVARITSCH drove in the port bow of the ALCANTARA, which sank immediately with the loss of all her crew except two.
The bow of the TOVARITSCH was stove in for about 15 feet above the waterline. Some sources give that it was clear weather with the moon shining, others give that it was dense fog. The TOVARITSCH was under full sail, (so it looks visibility was good) one of the survivors who was rescued when hanging on the bowsprit of the TOVARITSCH told, that he felt the deck of his on ship sink beneath his feet. The other man was rescued by the P&O steamer MOLDAVIA from the water.
The TOVARITSCH made it to Southampton and a temporary repair was made, before she was towed to Hamburg where she was repaired by the Janssen und Schmilinsky shipyard.
After her repair it was decided by the Soviets to transfer her to the Black Sea and on 21 July she sailed from Hamburg, passing Gibraltar on 18 August 1928 bound for the Black Sea. And on this voyage she reached on 13 August her maximum speed of 14 knots.
Her new port of registry became Odessa
From her new homeport she made till 1941 training voyages in the Black Sea and Sea of Azov, not carrying any cargo but only solid ballast.
1932 Command was taken over by Capt. Peter S Alekseev.
She was also the first training vessel were woman cadets were allowed.
When War broke out she was in Mariupol, Sea of Azov where she was captured by the German Forces in the autumn of 1941.
Then used as a floating barrack by Croatian Navy personnel.
When Mariupol in the spring of 1944 was liberated, she was found sunk in the harbour.
Not sure how she sank, some give that she was sunk by the withdrawing German forces, others that she was sunk during a Russian air-raid on the German occupied town.
The only relic what today exists of the ship is one of her anchors who was placed on a pedestal in a Mariupol town park. SG5167
Source: Sail Training and Cadets Ships by Harold A Underhill. The Last of the Windjammers Vol II by Basil Lubbock.
http://www.maritime-life-digital.com
http://www.bruzelius.info/Nautica/Ships ... 1892).html