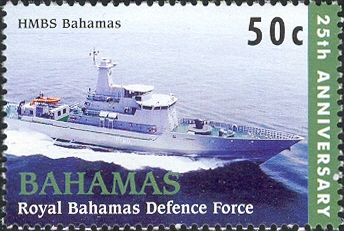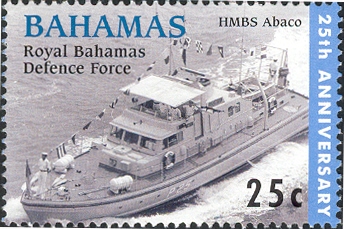 This set of stamps issued by the Bahamas have two stamps with watercraft on it. The 25 cent depict the HMBS ABACO.
Built by Vosper Thornycroft, Portsmouth, England for the Royal Bahamas Defence Force.
Launched under the name HMBS ABACO (P25).
Displacement 30 tons full load. Dim. 18.29 x 4.8 x 1.40m.
Powered by two Caterpillar TA diesels, 950 bhp. (700kW.), twin screws, speed 19.5 knots.
Range 650 miles by 16 knots.
Armament 2 – 7.62mm MG's (1x2).
Crew 11.
Commissioned 1977.
After arrival in the Bahamas she was stationed at Carol Harbor.
She was part of a seven-ship Acklins-class PB patrol boat built between 1972-1977.
The ABACO was decommissioned in 1995.
The other ships of her class were; ACKLINS (P21) commissioned 1972, sunk after a fire in 1980.
ELEUTHERA (P22), commissioned 1972 and decommissioned in 1995, thereafter sold to a south Florida business person, who refitted her for private use.
ANDOS (P23), commissioned 1972, decommissioned 1995, and is now preserved as a museum.
SAN SALVADOR (P24), commissioned 1972, decommissioned 1982.
EXUMA (P26), commissioned 1977, decommissioned 1995.
INAGUA (P27), commissioned in 1977 and decommissioned in 2000.
The 50-cent depict the HMBS BAHAMAS.
Built by Halter Marine Group, Moss Point Marine, MIS, U.S., for the Royal Bahamas Defence Force.
14 March 1997 ordered.
19 December 1997 laid down.
Launched under the name HMBS BAHAMAS (P60).
Displacement 375 tons full load, dim. 60.62 x 8.90 x 2.60m.
Powered by 3 Caterpillars 3508 DITA diesels, 3.900 bhp., three screws, speed 24 knots.
Range by a speed of 15 knots, 3.000 miles.
Armament 1 – 25mm Mk 88 Bushmaster low-angle gun, 3 – 7.62mm MG's (1 – 3).
Steel hull with aluminium superstructures.
Crew 35 and can carry 28 troops.
27 January 2000 commissioned. Building cost US$ 13 million.
The HMBS BAHAMAS with her sister, the NASSAU (P61) are of the Europatrol 250 class PC craft, both were ordered the same day and on the same day commissioned.
Both are based at Prince George as the navy dock in Nassau's Coral Harbour is too shallow for them.
Accommodations are for a total crew of 62.
The 25mm MK 88 Bushmaster is a low-angle gun-mounted in a Kollmorgen MK 98 stabilized mounting.
Source: Watercraft Philately 2005 page 65.