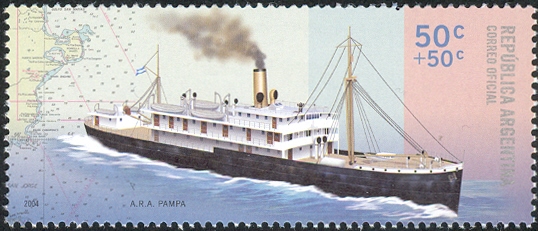 Built as a cargo vessel under yard No 32 by the Danziger Werft, Danzig for Lloyd Chileno, Valparaiso, Chile (a short lived company founded by Liga Maritime de Chile.)
April 1924 launched under the name RIO BUENO, one sistership the RIO CLARA, also sold to Argentine and renamed CHACO.
08 August 1925 bought by Argentine Government for £35.000 and renamed in PAMPA.
Displacement 3.650 ton, dim. 79.20 x 11.5 x 7.35m. (draught), mean draught 5.85m.
One triple expansion steam engine 1.750hp., one screw, speed 12 knots maximum, economical 9.5 knots. Two boilers.
Bunker capacity: oil 350 tons.
Armament 2 – 76mm quick-firing guns, as transport.
Till 1931was she used as a cargo vessel and she made several voyages to Europe with cargo and passengers, while she also made several voyages to Ushuaia, during one voyage she carried a bridge for the city of Quequen.
In 1931 she was classified as a navy transport.
She was then used on the south coast of Argentine, but made also voyages to Europe and the Caribbean, and several voyages to the Orcadas Islands as supply vessel for the meteorological station on the island.
1947 She was modernized and refitted; thereafter she took part in two Antarctic campaigns between the years 1947 and 1950. In the first she took part in the founding of the Naval Base Deception, in the second by the establishment of the Salvage Station of Puerto Neko.
1950 She made her last voyage as transport between Buenos Aires and Comodoro Rivadavia, on her return at Buenos Aires she was sold.
1951 Sold to Cia Navemar, Buenos Aires, renamed in ULTRAMAR.
Tonnage given as 1.406 grt, 529 net.
Used in the service between Argentine and Brazilian ports.
She is still in Lloyds Register 1955/56 under that name, and same owner.
Source: Info received from Mr. Mario Rosner. Andreas von Mach via Marhst-L. Lloyds Register 1955/56