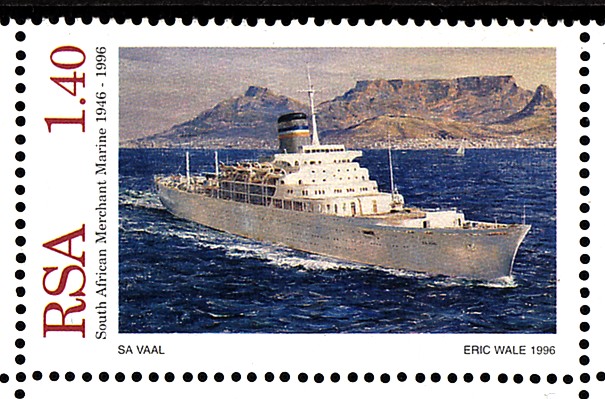 Built as a passenger-cargo vessel under yard No 720 by John Brown & Co. (Clydebank) Ltd. at Glasgow for the Union Castle Mail Ltd. in London.
17 January 1961 launched under the name TRANSVAAL CASTLE.
Tonnage 32.697 gross, 17.932 net., dim. 231.7 x 27.48 x 9.75m. (draught).
Powered by four Parsons steam turbines, 40.000 shp, geared to two shafts, speed 23.5 knots.
Passenger accommodation for 728 passengers in one class, crew 426.
12 decks all air-conditioned throughout the ship
Fitted out with Denny Brown stabilizers.
Cargo capacity for 643.00 cubic feet.
A garage for passengers cars was arranged at the foreward end of A deck.
16 December 1961, delivered to owners.
Used in the liner service between Southampton and South Africa. When necessary could make the passage to South Africa in 11.5 days with a speed of 22.5 knots.
At that time she was unique among the passengers-mail liners, her passengers were carried in only one class designated as hotel class. At that time her passage fare was from £700 for a suite with bedroom, sitting room and twin bathroom, to £120 for an inner three or four berth cabin. The difference being that all passengers had access to the whole ship and the public rooms, swimming baths and other amenities were open to all.
18 January 1962 sailed from Southampton on her maiden voyage to Cape Town and Durban.
12 Jan. 1966 transferred to the South African Marine Corp. (UK) Ltd., renamed S A VAAL, still under British flag, and in the same service. Managed by Safmarine.
1967 Tonnage decreased to 30.212 gross.
1969 Homeport Cape Town.
01 April 1976, she inaugurated the new harbour at Richards Bay near Durban.
1977 she left for the last time the Table Bay in this service and arrived 02 September at the U.K.
Sold to the Carnival Cruise Lines Inc., registered in Panama, renamed FESTIVALE under ownership of Festival Maritime Inc. (Arison Group), Panama.
29 October 1977 sailed from Southampton for Japan for $30 million refurbishment and to be converted in a cruise liner by Kawasaki Heavy Industries Ltd. at Kobe.
164 New cabins added.
31 August 1987 delivered after the conversion, tonnage decreased to 26.632 gross, 12.313 net, 16.604 dwt.
Passenger 1.432, crew 579.
28 October 1987 sailed for her first Caribbean cruise from Miami. Her last sailing in this service was on 12 October 1986, thereafter used from San Juan, Porto Rica to the Caribbean.
1996 Renamed by Festivale Maritime Inc., Bahamas in ISLAND BREEZE, managed by Premier Cruise Holding in the Bahamas.
2000 Renamed by Festivale Maritime Inc., Bahamas in BIG RED BOAT III.
11 June 2000 had one of her propellers damaged at Houston when it was hit by the tug JUPITER, she was repaired at Mobile, and one cruise was cancelled.
14 September 2000 Premier Cruises collapsed and the BIG RED BOAT was laid up at Freetown, Bahamas.
2003 Sold by unspecified interests to Indian breakers, and 4 June 2003 she sailed from Freetown with a crew of 42 under the name BIG BOAT for the scrap yard in India via Gibraltar and Suez Canal.
09 July 2003 arrived at Alang
13 July beached, and dismantling commenced.
She is on South Africa 1996 1r40 sg 933.
Under the name FESTIVALE on.
Antigua 1989 25c sg 1281.
Barbados 1992 $2 sg 986.
Barbuda 1989 25c sg 1126.
Source Great Passenger Ships of the World by Arnold Kludas. Marine News 1997/75,100,204,533. 2000/144,537, 724,747. Marine News 2003/563.