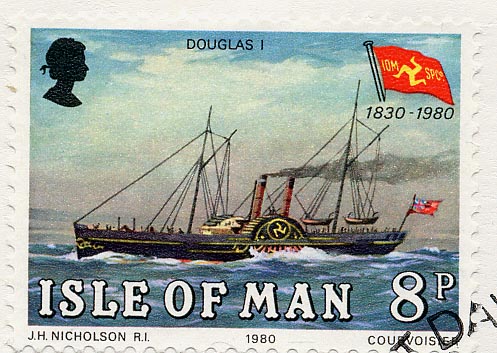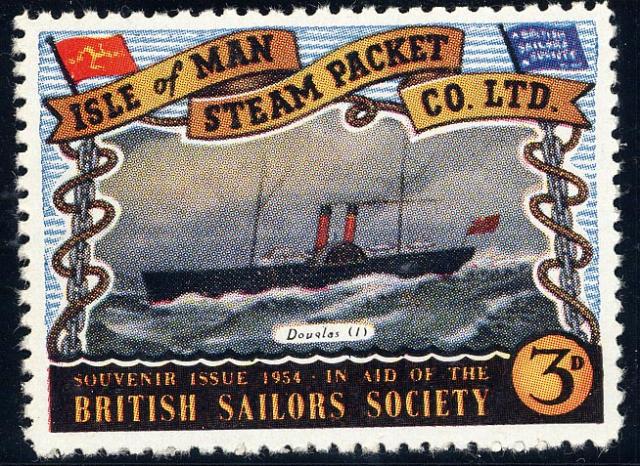 Built in 1858, this steamer was the fastest then afloat and had the unusual distinction of serving on both sides during the American Civil War. In 1862 she was sold to agents for the Confederate States of America and made eighteen blockade-running trips under the name 'Margaret and Jessie' before being captured and sold to the Federal Navy. She was commissioned as U.S.S. Gettysburg and shared in the capture of five Confederate runners.
This label depicts the first
Douglas
of the company which introduced straight stems to the fleet. In other respects she was a startling contrast to her predecessors in that she was exceptionally long and narrow-gutted. On trial her speed was17.25 knots, and she usually made the run between Liverpool and
Douglas
in about 4 hrs. 20 min. and also was reputedly the fastest steamer afloat at that time.
In 1862 she was acquired by Fraser, Trenholm and Company, Confederate Agents, for the purpose of running the Federal blockade in the American Civil War. Painted grey and rechristened Margaret and Jessie she had a most successful career until driven ashore at Nassau, in the Bahamas, by the Federal ship Rhode Island in June 1863. The engines of the
Douglas
were to be seen on Nassau beach for over 80 years after the incident. This vessel was also the first 2-funnelled steamer built for the Isle of Man Steam Packet Company and was the last built for the line by Robert Napier. She was a ship of 700 gross tons on dimensions: 205 ft. (b.p.) x 26 ft. x 14 ft. and was completed in 1858.
SG171 IOM Post Office and Sea Breezes 7/54