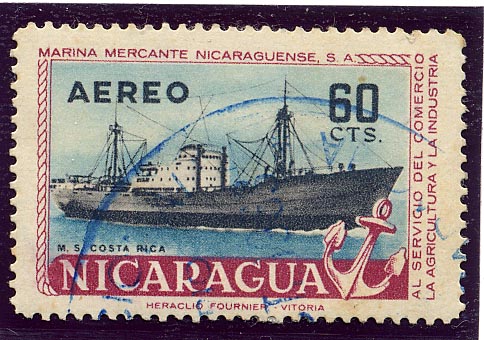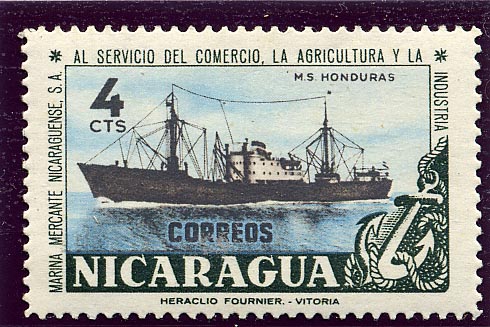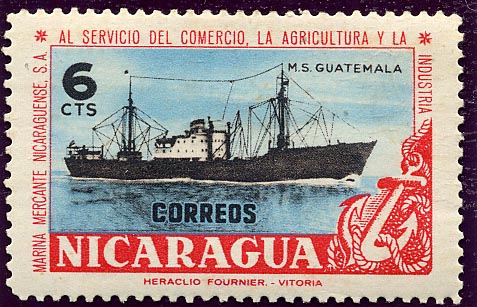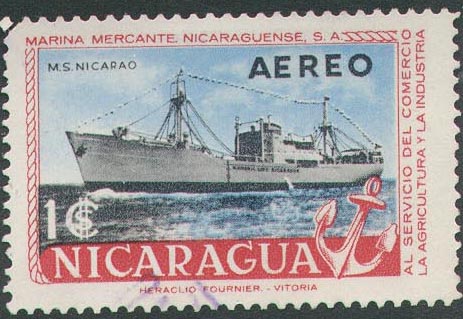 Four more motorships were ordered from Atlas-Werke A.G. of Bremen of which the Costa Rica (shown on the 60 cents stamp) was the first to be completed by the German builders. A vessel of 2,394 gross tons on dimensions 358.5ft x 47.8ft. x 20.4ft., she is driven by two 4-stroke single acting M.A.N. oil engines with pneumatic coupling and single reduction gearing to screw shaft. Horsepower is 3,800, giving the vessel a speed of 16 knots. Atlas-Werke completed the Honduras (4 cents stamp) in August 1955, the Guatemala in February 1957 (6 cents stamp) and the Nicarao latest ship of the fleet, in April 1957 (1 colon airmail stamp).
The Honduras is an identical sister to the Costa Rica, Guatemala and Nicarao. Propulsion is by M.A.N. oil engines similar to those in the Costa Rica.
The modernised Mamenic Line has its headquarters at Managua, the country's capital city, but the fleet is registered at the home port of Corento. Services are now between all Central American and the Caribbean ports, and to and from the United States and Europe, with the European office of the company at Hamburg. Besides the stamps shown, the other remaining values of the set are all of nautical interest. The Mamenic Line houseflag is shown on the 50 cents and 2.50 colon air stamps, while the 30 cents depicts a ship's wheel and a map. Two remaining stamps 15 cents and 50 cents show terrestial globes. Founder of the Mamenic Line, General A. Somoza, is portrayed on the 5 cents stamp of the set together with an unnamed ship of his fleet.
SG1309, 1300, 1302 and 1310