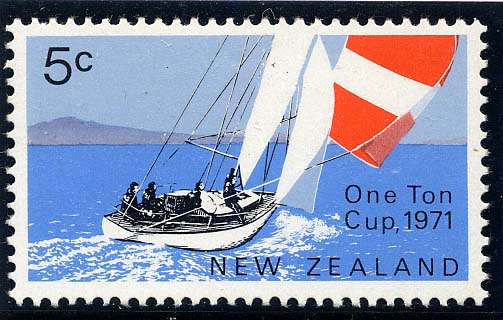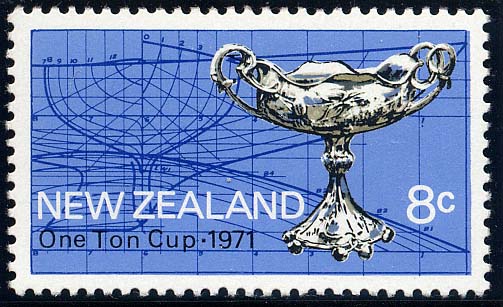 New Zealand commemorated the first challenge in New Zealand waters for the International One Ton Yachting Contest by the issue of two stamps on March 3 1971, the contest taking place from the 5th to 8th of that month. The yacht on the 5 cent value is the
Rainbow
II, the New Zealand cup winner in 1969, when the races were held off Heligoland. The stamp design shows the winner in her home waters and is based on a photograph of the yacht with Rangitoto, Island in the background.
The ocean yacht racing world has gone overboard for the new One Ton Cup contest, held for the first time in 1965 and won by the Danish craft Diana III, designed by Sparkman and Stephens. Actually, the One Ton Cup Trophy was first presented as long ago as 1898 by the Cercle de la Voile de Paris. During the first half of the century it was competed for mainly by international 6-metre class yachts. Sweden won it 12 times, Great Britain 10, France nine, Norway and Germany five, Switzerland four, and the U.S.A. and Netherlands each with two wins.
With the demise of 6-metre boats the cup challenges died away. The French yachtsman, Jean Peytel, suggested that the cup be competed for in scratch racing by ocean racers that rated at a maximum of 22 ft. under the Royal Ocean Racing Club rule.
The first contest was held in 1965 and was won by the Diana III (Denmark), followed by the Tina, (U.S.A.) in 1966 and Germany's Optimist in 1967 and 1968, New Zealand's
Rainbow
II taking it in 1969. Apparently there was no contest last year, so it is being held in the last winner's home waters this year. The One Ton Cup is shown on the 8c. stamp against an interesting background of a draughtsman's yacht plans.
SG950 Sea Breezes 5/71