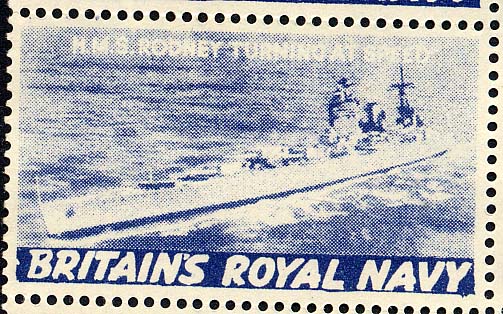 H.M.S.
Rodney
turning at speed is the subject of one of a series of labels issued during the last war to publicise "Warship Weeks" which were held throughout the country in aid of the war effort. These labels are now quite scarce. The
Rodney
and her sister-ship, the Nelson, were the first British battleships to mount 16 in. guns. A curious fact in their construction was that part of the material used was originally ordered for two battle cruisers, the construction of which was abandoned in 1919. The
Rodney
was, with H.M.S. King George V, in action with the Bismarck in May 1941 when the German vessel was sunk. Built by Cammell Laird, at Birkenhead, the
Rodney
was laid down on December 28, 1922, and completed in August 1927, at a cost of £7,617,799. Her armament consisted of nine, 16 in. guns in triple turrets, 12, 6 in., six, 4.7 in. A.A., three multiple pom-poms, and 21 smaller guns. She also carried two 24.5 in. submerged torpedo tubes, and two aircraft. Placed in reserve in 1946, she was scrapped in 1948.