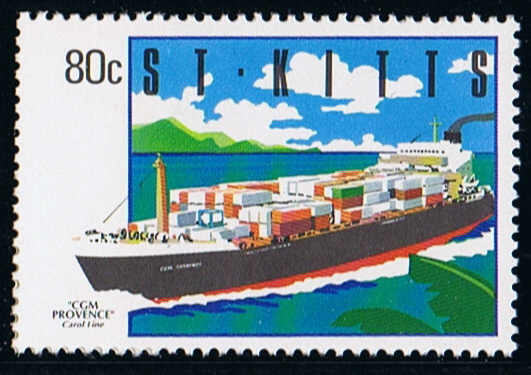 The vessel depict on this stamp is the container vessel built in 1977, and not as by some given as built in 1990. The stamp is issued in 1990 and the vessel built in 1990 was delivered after the stamp was issued, also the ship depict on the stamp has a cantry crane; while the vessel built in 1990 has cranes.
Built as a cellular container vessel under yard No b463-1/02 by Stocznia Gdanska, Gdansk for Charente Steamship Company, managed by Thos. & Jas. Harrison, Liverpool.
08 April 1977 launched under the name ADVISER.
Tonnage 27.667 gross, 15.348 net, 23.120dwt., dim. 203.8 x 31 x 15.6m., draught, length bpp. 193.5m.
Powered by a 10-cyl Sulzer diesel engine, manufactured by H. Cegielski, Poznan, 29.000bhp., one shaft, speed 20.5 knots.
Fitted out with a bow thruster.
Could carry 1.416 TEU's.
September 1977 delivered to owners. Homeport Isle of Man.
She was first fitted out with a 40 ton Liebherr deck gantry crane, (as seen on stamp) for use in the ports without any container cranes. The crane limits the number of containers carried by around 200 TEU's.
When all the calling ports have container cranes, the gantry crane will be removed.
After completing in the Caribbean Overseas Line (CAROL) service, which was operated jointly by Harrison, Hapag-Lloyd, K.N.S.M. and Cie Générale Maritime. A weekly service between North Europe and Central America and the Caribbean. The ports of call were in the beginning, Hamburg-Bremerhaven-Amsterdam-Antwerp- Tilbury-LeHavre-Liverpool to Barbados-Trinidad-Aruba-Curacao-Puerto Rico-Dominican Republic-Haiti-Jamaica-Guatemala-Honduras.
Between 1983 and 1984 was she chartered by Seawinds Ltd. Anjalena International Lines Shipping Agencies, renamed in ASIA WINDS. After the charter renamed in ADVISER.
1985 Chartered by Cie Générale Maritime et Financiere, Paris for the CAROL line, renamed
CGM
PROVENCE.
19 April 1988 at 12.09 ships time she had traveled 1.000.000 miles in the service of the Harrison Line, having made 976 ports of calls and loaded 1.892.120 tonnes of cargo.
1990 Renamed again in ADVISER by Charente SS Co.Ltd., Isle of Man.
1993 Sold to Toddle Shipping Inc., Greece, renamed LASER STREAM. Under Greek flag and registry.
1996 Renamed in CAP VILANO by owners.
2000 Renamed in MSC NAMIBIA. A photo in Marine News under the name CAP VILANO she still has her gantry crane.
http://www.equasis.org
gives for 2006. IMO No. 7383906, still owned by Toddle Shipping, managed by Costamare Shipping, Athens, Greece.
2009 Same name, owned by Sims Shipping Co., Liberia, under Greece flag, and still managed by Costamare Shipping, Athens.
St Kitts 1990 80c sg 319, scott 301.
Source Marine News 1990/677, 1993/606,1997/103, 2001/411