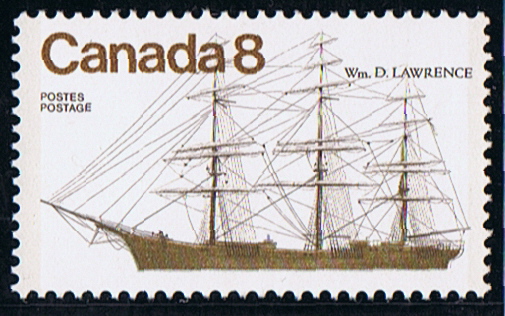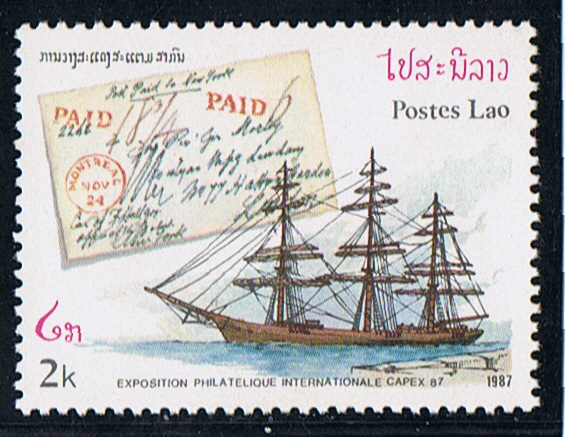 Built as a wooden three-masted full-rigged ship by William Dawson Lawrence at Maitland. Nova Scotia for his own account.
September 1872 the keel with a length of 244.9ft. was laid.
Work was not regularly carried on until April 1873, and it was 27 October 1874 before she was launched.
Named after her builder and owner W D LAWRENCE.
At the time of her launch she was the largest sailing vessel of the world. (there was a other larger sailing vessel but she was a conversion of a steam vessel)
Tonnage 2458.82 gross, 2.458.82 net, and 2315 tons under deck. Dim. 262 x 47.6 x 29.2ft.
She was built of spruce chiefly, with some hard wood stem and stern-post.
Copper fastened to the deep draught line and iron fastened above.
Her total spread of canvas was 8000 square yards.
Two decks.
Crew 35.
Building cost Can$107.453.
04 December 1874 sailed for her maiden voyage with a cargo of deals from St Johns N.B. to Liverpool under command of James Ellis, son in law of the owner. Arrived there after a passage of 23 days.
In England she was fitted out with donkey boiler and winch.
From Liverpool she sailed with a cargo of coal for Aden.
13 September 1875 sailed from Aden to Callao, Peru in 83 days, she arrived at Callao on 06 December 1875.
14 December she cleared Callao for the Chinchas Islands, Peru, on charter to Dreyfus Fréres et Cie to load guano for Le Havre, her loading port was later changed to Pabellon de Pica.
She had to wait eleven months before she could load her cargo of guano.
11 December 1876 sailed from Pabellon de Pica around Cape Horn for Le Havre.
From Le Havre she made again a voyage to Aden, not anywhere can I find what she was bringing to Aden, I believe most probably coal for the steam vessels there, the coal most probably loaded in the U.K.
02 March 1878 sailed from Aden bound for Callao arriving there the 28 July, a very poor passage of 148 days. After clearing in Callao she sailed for Huanillos to load a cargo of guano.
23 December 1878 she sailed from Huanillos, arriving on 09 April 1879 at Falmouth for orders, after a passage of 106 days.
Thereafter used in the trade from the U.K. to India.
On a voyage from Calcutta to London she put in at Mauritius on 03 May 1880, to land Capt. Ellis for medical treatment, and the first officer James Tornay took over command, arriving with her in London on 04 August after a passage of 140 days.
The same year she made a passage from 138 days from Newcastle, England to Bombay.
In 1822 she made a passage from Liverpool to Bombay in 122 days.
Command for her last voyage under Canadian flag was taken over by Captain William Lawrence, jun. he drove her very hard and made her last round voyage one month quicker than her previous voyages.
She sailed that voyage from Narakal, Cochin, SW India on 03 September 1883 and arrived London 03 January 1884, after a passage of 101 days.
Due to this good performance Lawrence could sell her to the Norwegians for $86.000 after arrival at London.
During the period she was owned by Lawrence she made a clear profit of $ 140.848.
Sold to Norwegian owners in Sandefjord, and renamed in KOMMANDØR SVEN FØYN.
Her new captain Johan M Bryde owned 1/16 part of the ship.
First used in the timber trade across the North Atlantic, then for many years in the oil trade from New York.
1889 Sold to Chr. Christensen, Sandefjord not renamed.
Around 1890 she loaded deals at West Bay near Parrsboro not far from where she was built.
1892 Sold to A.S. Union (Johan Bryde) Sandefjord. And sailed till 1896 under command of Capt. G.M. Bryde.
From 1896 till 1898 under command of Capt. A. Nielsen.
December 1897 on a voyage from Dalhousie, N.B., Canada to London loaded with timber; she was partly dismasted during a storm near the Goodwin Sands in the Strait of Dover. Towed to Gravesend.
Not worth to repair the old ship, she was sold for £1.500 to French owners.
Used as a barge at Dakar, West Africa. Most probably in use there till she was abandoned.
Canada 1975 8c sg 818.
Laos 1987 2k sg 983
Source: Ships of Canada. Wooden Ships and Iron Man by Frederick William Wallace.
http://www.bruzelius.info/nautica/Ships ... 1874).html