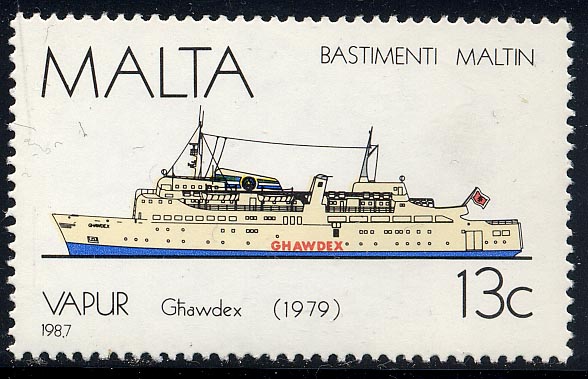 Built as a passenger ro-ro car ferry under yard no 26 by the Adler Werft in Bremen, for the Juelsminde-Kalundborg Linien A/S, Juelsminde, Denmark.
30 July 1962 launched under the name KALLE.
Tonnage 2.301 gross, 1.043 net, 698 dwt., dim. 88.3 x 16.2 x 7.5m., length b.p. 80.5m., draught 4.0m.
Four 9 cyl. MAN diesels 5.240 bhp., speed 16.5 knots, twin screws.
Passenger accommodation for 55 cabin and 1.045 deck passengers. Could carry 120 cars.
She was ice strengthened.
1971 Sold to Bornholms Trafikken 1866, Denmark and renamed ROTNA. Used in the ferry service between Copenhagen and Röne on the island Bornholm. Made the crossing in about seven hours.
1979 Sold to Gozo Channel Co. Ltd. Malta (managed by Sea Malta Co. Ltd.) and renamed GHAWDEX. Maltese for Gozo.
Used in the service Malta-Gozo and also during the mid-1980s deployed on the Malta to Catania run.
When new ferries took over, the GHAWDEX was sold for $ 180.000 in 2000 to the local Mira Towage company, she was renamed VIRGEM DE FATIMA
Then resold to Portuguese owners who intended using it as a cargo carrier, but the buyers defaulted I think on the payments, and could not take the vessel over.
Mira Towage decided then to sell her to Turkish breakers, and she was towed in 2002 from the privately owned Maltese shipyard where she was lying the last two years, under the flag of São Tomé to her final destination in Turkey for breaking up.
Malta 1987 13c sg 811
Marine News. Autofähren und Passagierschiffe der Welt. Navicula 2002/7576.
http://www.ferry-site.dk/bht-rot2.htm