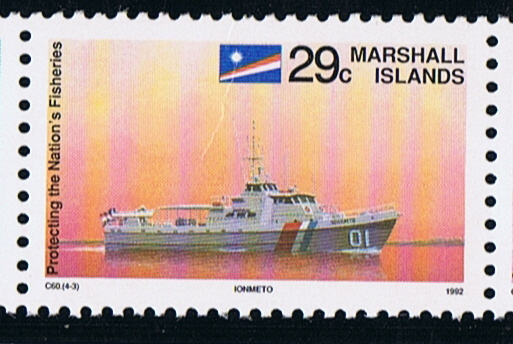 According Log Book she is one of the Pacific Forum class, but on
http://www.geocities.com/pacnavies/marshallisl.htm
she is an Ionmeto Class vessel of which only one was in service of the Marshall Isl. Navy.
Built in ?, as oilfield crew boat under the name SOUTHERN LIGHT (who has the details of this vessel)
She was converted by Halter Marine USA in a patrol vessel for the Marshall Isl. Navy.
Renamed in IONMETO (01)
Displacement 110 ton full load. Dim. 31m x ? x ?
Powered by two diesel engines, two shafts. Fuel capacity 9.000 gallons.
Armament 2 – 22.7mm MGs.
Crew 12.
Commissioned December 1987.
Used for the protection and patrol of the rich fish waters off the Marshall Islands, also used for rescue work.
1996 Deleted. Fate unknown.
Marshall Islands 1992 29c sg 443, scott 416.
Source:
http://www.artworkoriginals.com/EB5SCCJJ.HTM