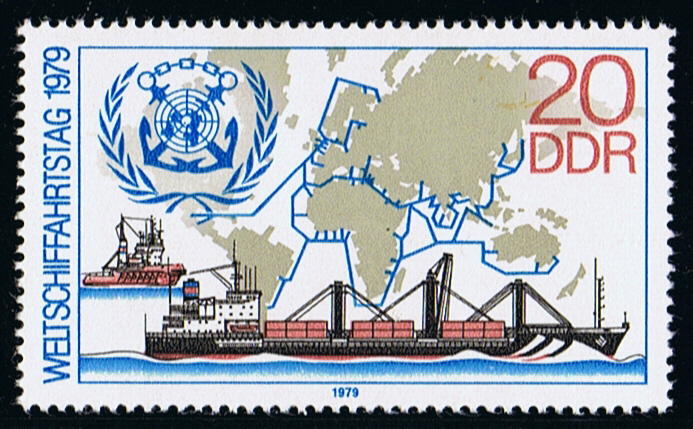 The ship on this stamp of East Germany is one of a series ships built by the Warnowwerft at Warnemunde, which ship is depict on the stamp is unclear, but it must be one of the Monsun type which mostly were built for the export market. A photo of the RADEBEUL one of the later ships of this type, looks exact the same as the design on the stamp.
The stamp was issued in 1979 and the first ship of this type was the FANOES built in 1979; the second was the FILON built in 1980. From my point of view the vessel depicts on the stamp can only be the FANEOS, she was built in 1979, the same year the stamp was issued.
Built as an all purpose general cargo vessel under yard no. 241 by the Warnowerft at Warnemünde, East Germany, for Faneos Shipping Corporation S.A., Greece (I believe a Russian company).
Tonnage 11.730 gross, 7.294 net, 17.240 dwt., dim. 158.3 x 23.1 x 13.4m., draught 10.2m., length between p.p. 146.0m..
Powered by an eight cylinder DMR/MAN diesel, 11.200 bhp., speed 17 knots.
Two decks, five holds. Can carry 523 TEU's 342 in holds and 181 on deck.
Four 35 ton crane/derricks, 1 x 125 ton, 4 x 5-10 ton derricks. Four holds and hatches.
Crew 32.
1979 Completed.
1986 Transferred to U.S.S.R flag and renamed GRIGORIY KOZINTSEV
1997 Sold by Blasco Ukraine, to Waltham Maritime Inc., Bahamas, renamed HAMILTON.
1999 Sold to Bangladesh breakers and arrived Chittagong about 29 Nov. 1999.
On the stamp you can also find on the background of the stamp a world chart with the liner services of the Deutfracht, the IMCO emblem and a tug, which is identified by Peter Criton as the STURMVOGEL.
Built as a tug under yard No 103 by Georg Eides Sönner A/S of Høylandsbygd for Bag. Bugs. und Bergings, Rostock, East Germany.
01 Nov. 1976 keel laid down.
Launched under the name KARL OSKAR.
Tonnage 863 gross, 114 net, 759 dwt., dim. 49.81 x 12.04 x 6.00m., length bpp 45.0m.
Powered by two 9-cyl Wichmann Oil 4SA diesel engines each 3.200 hp., speed 14.5 knots.
Bunker capacity 560m³, ballast 74m³ and fresh water 128m³.
01 Jan. 1977 Completed.
1978 Renamed in STURMVOGEL.
1980 Sold and renamed TRIUMPH.
1984 Renamed HANSEAT.
1989 Renamed ZAMTUG VI.
1990 Renamed OFFSHORE SOVEREIGN and owned by McAllister Towing and Transportation Co. Inc. Monrovia, Liberia.
According
http://www.eagle.org
: she has 2 General Motors engines each 2235 Kw.
2005
http://www.equasis.org
gives; she is owned and managed by Offshore Express, Houma, La. USA. IMO No 7611731. Call sign YJRD5 and sails and is registered under the flag of Vanuatu.
2009 According www://equasis.org Same name, same owner, but sailing and registered from May 2005 under Panama flag..
Marine News 2000/181. Soviet Bloc Merchant Ships by B and K Bock. Watercraft Philately Vol 43. page 39.