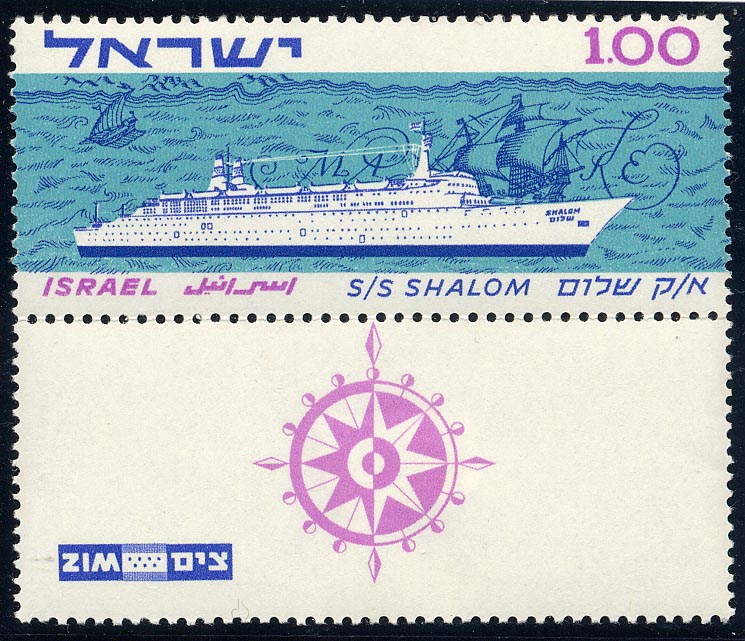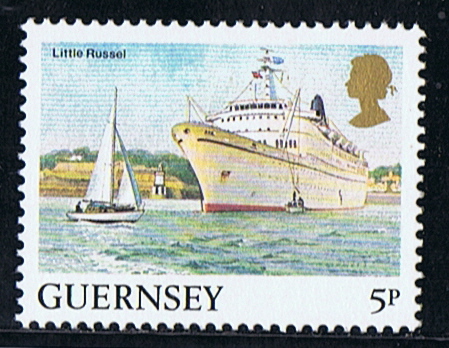 ISRAEL's passenger liner Shalom has been featured on a special commemorative stamp issued by the Israeli G.P.O. on the occasion of the ship's shake-down cruise in Mediterranean waters. This is the third ship of the progressive Zim Israel Navigation Co., Ltd. to be depicted on postage stamps, the others being the motorship Shomron and the steamer Zion, which appeared on Israel issues of 1958.
The Shalom is the last word in modern passenger ship construction and if the latest in naval architecture and comfort afloat can bring peace to her passengers the ship should certainly live up to her name, for Shalom is the Hebrew word for peace.
Built by the Chantiers de l'Atlantique, St. Nazaire at a cost of about £6 million, the keel of the Shalom was laid on April 2, 1962. The ship was launched on November 10 of the same year and was completed last February; her overall length is 629 ft., beam 82 ft. and gross tonnage 25,338. She has twin-screws and a service speed of 20 knots. Accommodation is provided in first and tourist-classes for 1,100 passengers, and as there is no cargo space, most of the ten decks, with the exception of crew accommodation, are devoted to the comfort of her passengers. The decks have been given names based on the peace motif, including Dove, Rainbow and Olive Branch.
There is a garage for 50 cars, three swimming pools, a gymnasium, sauna baths, closed circuit television, theatre, an international shopping centre and tennis court for passengers' convenience. There are two separate kitchens—one for kosher and the other for non-kosher cuisine, and the usual lounges, and bars, together with a chapel and synagogue.
After a series of shakedown cruises in the Mediterranean, the Shalom left Haifa on April 16, 1964 on her maiden voyage, arriving at New York on April 30. Her eastbound voyage is a 34-day cruise to the Mediterranean and thereafter she will sail monthly from New York to Malaga, Marseilles, Naples and Haifa, a 5,000 mile voyage that will take 14 days including stopovers. At the time of the stamp issue the Zim Line also issued three small labels in different designs showing the new liner and one of these labels is illustrated beneath the postage stamp.
SG269 Sea Breezes 6/64