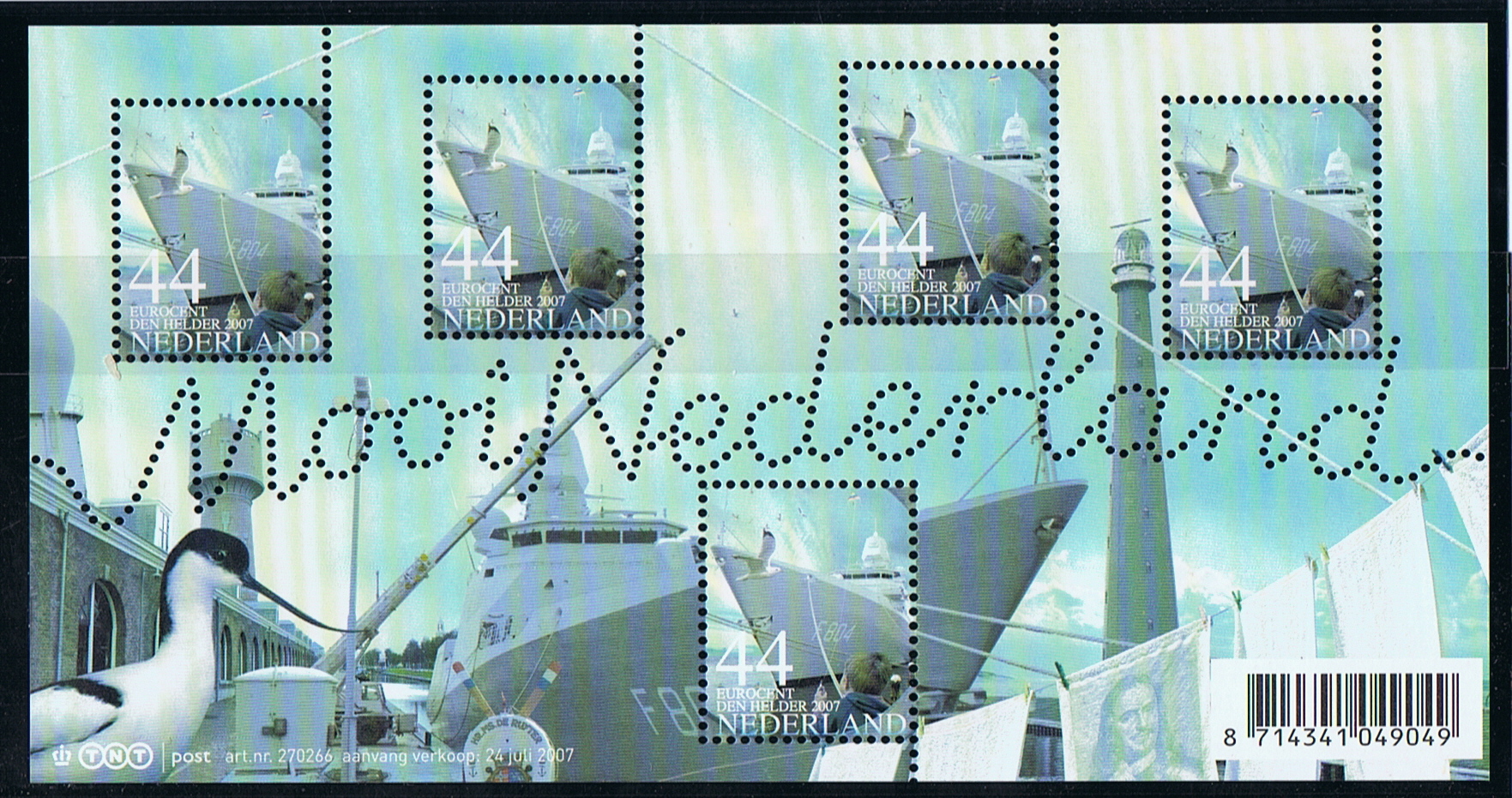 From 2005 the Dutch TNT has placed interesting places in the Netherlands in the spotlight on the Souvenir Sheets " Mooi Nederland" (Beautiful Netherland). 24 July 2007 was it the turn for Den Helder.
24 March 2007 400 years ago the famous Dutch Admiral Michiel de Ruyter was born. He made it from cabin boy to Admiral and had a glorious career in the Dutch Navy.
One of the cities he was well known was Den Helder.
On 11 August 1673 (21 August Dutch telling) the Dutch fleet under command of de Ruyter prevented a British/French invasion in Holland in the Battle of Texel.
Also at the present the maritime influence in Den Helder is large, it is the home-base of the Dutch Royal Navy, also the Corps Mariners are based in the city.
Navy ships dominate the town and for almost 200 years the Dutch navy had an important navy base at this town.
Den Helder with a population of around 58.000 including her suburbs Julianadorp and Huisduinen.
The former island Huisdunen was original Den Helder, during the Middle Ages on the island a second suburb was founded, which developed into the current city. Where the name Den Helder came from is questionable. A fairway named Helledore or also named Den Helsdeur (the Helldoor), maybe the name comes from. Indeed the door to the hell – the strategic position of the fairway would turn into hell for all hostile vessels which would want to enter the Zuiderzee (now IJselmeer), A second explanation indicate to Helle or Helde, what means a saint, or Helre a low sand ridge.
To honour this best known Dutch admiral, the bow seen on the stamps is the Dutch frigate DE RUYTER., also a piece of cloth on a was line depict the Admiral himself.
Built under yard No. 384 as a defence and command frigate by the Royal Schelde yard in Vlissingen (Flushing), Netherlands for the Royal Dutch Navy.
01 September 2000 keel laid down.
13 April 2002 launched under the name HNLMS DE RUYTER (F 804), named after the famous Dutch Admiral Michiel Adriaanzoon de Ruyter (1607 – 1676). Three sisters, DE ZEVEN PROVINCIEN, TROMP and EVERTSEN.
Displacement 6.050 ton full load. Dim. 144.24 x 18.80 x 5.18m. (draught), length on waterline130.20m.
GODOG powered by 2 sets Rolls Royce Spey SM1C gas turbines 52.300 hp., and 2 Stork-Wartsila 16V26ST diesels 13.600 hp.. Twin shafts, controllable pitch propellers, speed maximum 29 knots, cruising 18 knots.
Range 8.000 mile by 18 knots.
Armament: 48 Mk 41 vertical launch system, with 8 cells each. 8 – 4 Evolved Sea Sparrow missiles and 32 SM-2 IIIA surface-to-air missiles.
Two Goalkeeper CIWS guns, 2 quadruple Harpoon anti-ship missiles. 1 Otto Melara 127mm/54 dual purpose guns. 2 Oerlikon Contraves 20mm machine guns. 2 twin MK32 Mod 9 torpedo launchers with Raytheon MK46 Mod 5 torpedoes.
Crew 202 including command staff.
12 March 2004 handed over to the Dutch Royal Navy.
22 April 2004 commissioned under command of Comdr. F. de Boer.
17 January 2007, command was taken over by Comdr. Jeanette Morang; she is the first female commanding a Dutch frigate.
23 January 2008 returned home from a 5 month Unifil peace mission from the waters off Lebanon.
Netherlands 2007 all 0.44 Euro sg?, scott?
Source: many web-sites.