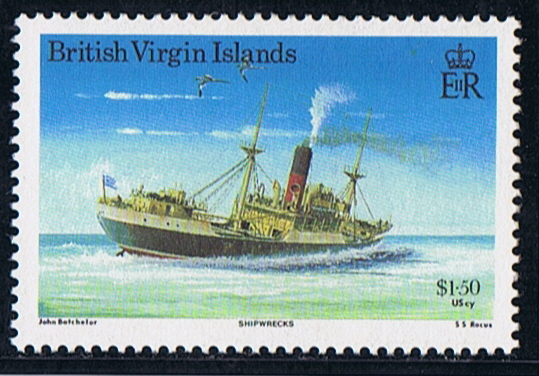 From an American shiplover I got the information that the vessel depict on this stamp is the CAPTAIN ROKOS and wrongly given on the stamp as SS ROCUS.
Built as a cargo vessel under yard No 504 by Bremer Vulkan, Vegesack, Germany for the Norddeutsche Lloyd, Bremen.
10 Sept. 1907 launched under the name GREIFSWALD.
Tonnage 5.486 gross, 3.437 net, dim. 135.60 x 16.62 x 8.45m.
One quadruple steam engine, 2.650 hp, speed 11 knots.
Crew 48.
04 October 1907 delivered to owners.
She was built for the freight service between North Europe and Australia.
1912 Her tweendecks were rebuilt to carry emigrants or cargo.
14 April 1914 seized and impounded at Fremantle, the crew arrested and interned at Rotnest Island.
During World War I served as transport C-5 for the Australian Government.
1916 Managed by the Commonwealth of Australia, London, renamed CARINA.
1923 Managed by Commonwealth Line of Steamers, Sydney.
1926 Sold to Georgios Vergottis, Argostoli, Greece, renamed CAPTAIN ROKUS.
17 Feb. 1931 on a voyage from Concepcion del Uruguay to Philadelphia loaded with animal bones for the glue industry, she stranded on the southern tip of Horseshoe Reef, Virgin Gorda, British Virgin Islands. She was declared total loss.
Divers nowadays find the wreck complete under water, and around the wreck the sea bottom is covered by animal bones. She is now largely broken up but the engine, boilers and winches are recognizable. She is locally known as "The Bone Wreck".
British Virgin Islands 1987 $1.50 sg 628.
http://www.bviwelcome.com/articles/shipwrecks/
Norddeutscher Lloyd Bremen by Edwin Drechsel.