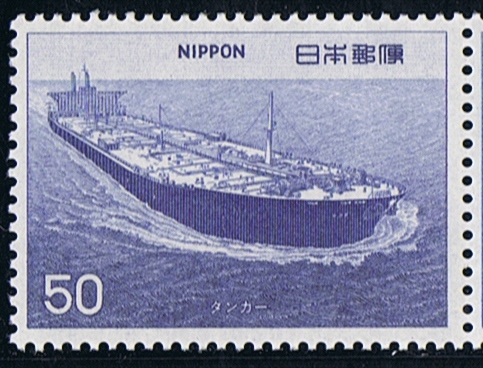 Built as a supertanker under yard No. 2344 by Ishikawajima-Harima Heavy Ind. Co. Ltd., Kure, Japan for the Tokyo Tanker Co., Tokyo.
December 1974 launched under the name NISSEI MARU.
Tonnage 238.517 gross, 184.884 net, 484.276 dwt., dim. 378.85 x 62.00 x 36.00m. Draught 28.17m.
Powered by high pressure/low pressure steam turbines, manufactured by Ishikawajima-Harima Heavy Ind. Co. Ltd., Tokyo, 45.000 hp., (33.097 kW). Trial speed 15.5 knots, service speed 14.7 knots. Daily bunker consumption 203 tons.
Bunker capacity 48.581 tons; the bunker tanks can also be used as water ballast.
Water ballast forepeak tank 22.588 tons, after peak tank 5.000 tons.
She has a cargo capacity of 573.345 cubic meter.
Call sign JRIN.
June 1975 delivered to owners.
After she was completed she was the largest tanker in the world.
1999 Sold to Malden Shipping Inc., Panama, renamed NISSEI MARU I.
2000 Renamed in ARCTIC BLUE.
2003 Sold to Bangladesh breakers, and demolition commenced Chittagong 05 June 2003.
Marine News 2000/169,550. 2004/51